No Objection Certificates -2018
No objection certificates (NOC) act as a legal document issued by any company or even by an individual. Commonly these certificates are known as NOC. It is regarded as a document of evidence. The author of the certificate shows that he has no objection on whatever he is writing in the certificate. It also shows that the contents of the files on which the certificate of no objection is being issued are precise and accurate.
For example, when a student wants to take admission in another university, he must request the NOC to the current university in which he is enrolled. Any other university will give the admission to the student only when the student will provide the NOC to them.
Not only in educational institutes, the certificate of no objection is also used in employment, immigration and on some litigation related issues. There are many departments which require this certificate before giving employment to a person. The certificate is signed by the head of the corporate issuing it. The signatures validate the authenticity of the certificate.
The NOC shows the previous job experience as well as the performance of the employee in a firm. The certificate is issued as per the request of the person. The main purpose of using the no objection certificate is to show that the company or institute issuing this certificate has no objection to the person and his specific purpose mention in the certificate.
It is important to mention the purpose upon which the issuer has no objection so that the reader can know that the issuer has no objection on the mentioned purpose only. Since the certificate is issued on the request of the person, the organization does not hold any responsibility of it. The firm becomes responsible only for the purpose mentioned in the certificate.
The template for no objection certification is available on this website that you can use to create a simple certificate for any purpose. All you must do is to download and add the details specific to you in the template.
Preview & Detail of Templates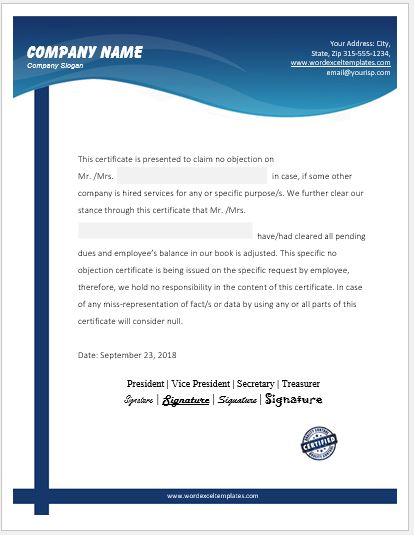 No Objection Certificate Template -1
File: Word (.doc) 2003+ and iPad
Size 312 Kb | Download
License: ENERGY [Personal Use Only]
---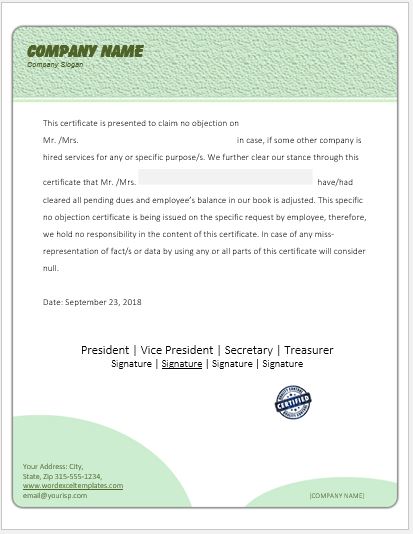 Template -2
File: Word (.doc) 2003+ and iPad
Size 312 Kb | Download
License: ENERGY [Personal Use Only]
---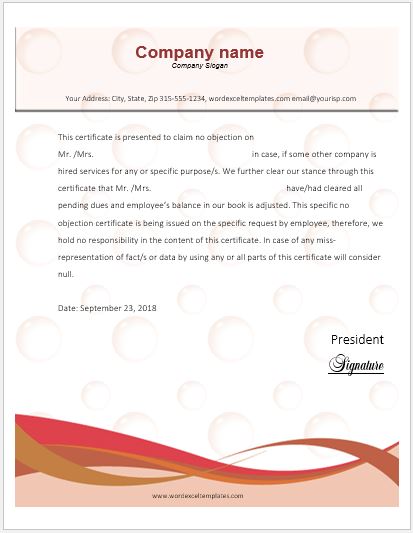 Template -3
File: Word (.doc) 2003+ and iPad
Size 312 Kb | Download
License: ENERGY [Personal Use Only]
---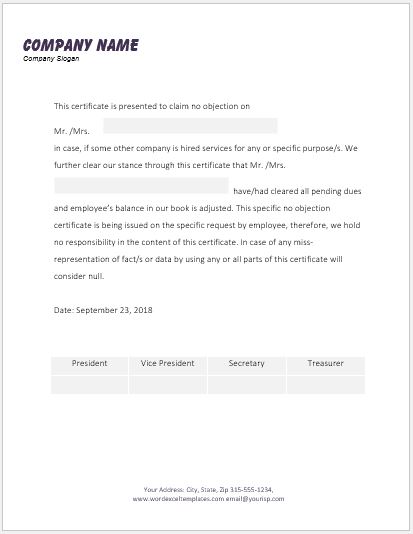 Template -4
File: Word (.doc) 2003+ and iPad
Size 312 Kb | Download
License: ENERGY [Personal Use Only]