Product comparison sheet allows user to input information about different products so that a good comparison can be made. With the product comparison list, the user can easily compare different items or products. Qualities of the features of each product can include other than ranking them on some basis and adding notes related to it for effective comparison.
The best thing about the product comparison sheet is that more than one kind of users can make a use of it. The most common use is seen by the company or organizational owners. They use this list to compare either two or more of their own products on the basis of sales, popularity or cost, etc. or they compare their own product with that of the competitor's. This allows the company to have a good look at the place where its own product stands in the market.
By comparing the different features of two products, the producer can make better decisions about it. The customers, on the other hand, can compare to similar products based on quality, prices and other features of comparison by which they can make a better decision of what to spend their money on. By simple use of a product comparison chart or sheet which helps the user a lot in choosing beneficial and right products. It is also suitable while finding out the best vendor who can provide the user with the best quality product at a reasonable price.
Template
The product comparison sheet template can help a lot as comparing products ahead of time can help the user to make proper and cost effective shopping list including only quality products from the best vendors. The best way to draft this comparison sheet template is to make a few columns. In this way, all the qualities can be compared without a mess. The first column should be allocated to the features of the products in question. These features can be subdivided into some categories like price, ratings, design, quality or cost, etc. The columns in front of this should have details of the products compared.
Each product should be compared according to each feature mentioned in the first column. At the end of the sheet, there should be a conclusion mentioned that which product is acceptable, rejected and accepted in the eyes of the user. This conclusion is the basis of decisions made by them.
Preview & Details of Template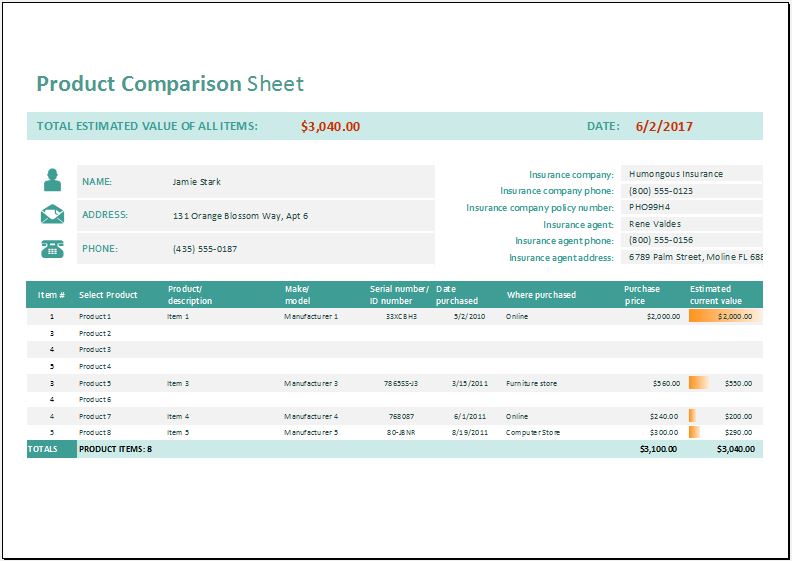 Product Comparison Sheet Template
File: Excel (.xls) 2003+ and iPad
Size 41 Kb | Download
License ENERGY [Personal Use Only]
[Not for resale & distribution]
---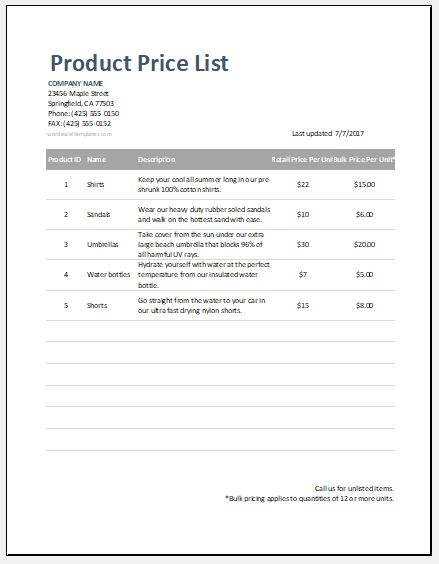 Product Price List Template
File: Excel (.xls) 2003+ and iPad
Size 41 Kb | Download
License ENERGY [Personal Use Only]
[Not for resale & distribution]