Job Cover Letters
When applying for a job, the resume is not the only important document. To secure an interview, we need a strong resume as well as an application letter known as job application letter or a cover letter.
Human resource managers focus a lot on the importance of writing an application letter. One of the best reasons to write a cover letter is that you get an opportunity to target the job in a specific way.
An application letter is a platform which provides you the space to write about yourself in the best ways. You can summarize your achievements and explain what attracts you the most about the job.
An interview is a limited time slot where the interviewer must judge your skills in the available time. Whereas, the application letter is a better way to sell your skills even before the interview.
An application, written well, can not only land you an interview but it also increases the chances of getting the job. You should take a good time before writing your application letter. Use thought, knowledge, and understanding before writing the letter.
When you are skimming through jobs, do not apply for every job that comes your way. It is very important to read the job description and if you have the necessary skills and the job description suits your career aspirations, then apply for the job. Do a thorough research on the employer and the job designation. This will give you an idea of the culture. Highlight keywords in the job description and use those words in the application letter.
Mention the research and effort you have done in applying for the job. Next, it could be a good opportunity to explain your reasons for applying for this job. Most of the job adverts do not mention to send an application letter. But it is always professional to send an excellently written letter. If the job description asks you for an application letter, make sure to add one to the instructions provided.
Always use the latest format to write the letter. Don't forget the recruiter has a few minutes to go through each application and based on that, s/he will review your resume. So, your application letter is your first impression. Make your contact information easily available on the letter so it's easy to make you a call or shoot you an email.
Sample Job Cover Letters
For experienced professional
Subject: Application for the full stack developer position
I am interested in applying for the role of full stack developer, advertised by your company in The News dated 22nd Jan 2019.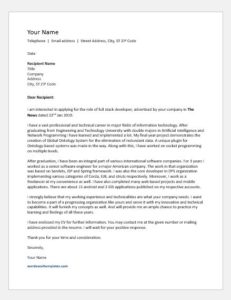 I have a vast professional and technical career in major fields of information technology. After graduating from Engineering and Technology University with double majors in Artificial Intelligence and Network Programming I have learned and implemented a lot. My final year project demonstrates the creation of Global Ontology System for the elimination of redundant data. A unique plugin for Ontology-based systems was made in the way. Along with this, I have worked on socket programming on multiple levels.
After graduation, I have been an integral part of various international software companies. For 3 years I worked as a senior software engineer for a major American company. The work in that organization was based on Servlets, JSP and Spring framework. I was also the core developer in DPS organization implementing various categories of Corda, EJB, and struts respectively. Moreover, I work as a freelancer at my convenience as well. I have also completed many web-based projects and mobile applications. There are about 15 android and 2 iOS applications published on my respective accounts.
I strongly believe that my working experience and technicalities are what your company needs. I want to become a part of a progressing organization like yours and serve it with my innovative and technical capabilities. It will furnish my concepts as well. And will provide me an ample chance to practice my learning and findings of all these years.
I have enclosed my CV for further information. You may contact me at the given number or mailing address provided in the resume. I will wait for your positive response.
Thank you for your time and consideration.
For Entry Level
Subject: Applying for the position of tourist guide
I am presenting myself as a candidate for your reputed firm. I just got to know about a vacancy of 'tourist guide' in your company's tourism and traveling department. One of my senior professors from university acknowledged me about it.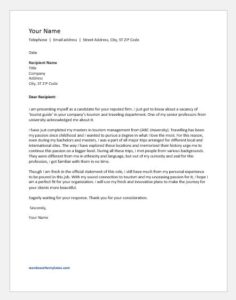 I have just completed my masters in tourism management from (ABC University). Travelling has been my passion since childhood and I wanted to pursue a degree in what I love the most. For this reason, even during my bachelors and masters, I was a part of all major trips arranged for different local and international sites. The way I have explored these locations and memorized their history urge me to continue this passion on a bigger level. During all these trips, I met people from various backgrounds. They were different from me in ethnicity and language, but out of my curiosity and zeal for this profession, I got familiar with them in no time.
Though I am fresh in the official statement of this role, I still have much from my personal experience to be poured in this job. With my sound connection to tourism and my unceasing passion for it, I hope I am a perfect fit for your organization. I will use my fresh and innovative plans to make the journey for your clients more beautiful.
Eagerly waiting for your response. Thank you for your consideration.