Apology letter for being late to class
I am writing this letter to address the issue of being late for the class. I know how important it is to miss the lecture these days and the impact that it can have on my grades.
As per the policy of the class, attendance is marked before the start of the lecture. Being late, I tried to avoid distracting everyone. Due to such reasons, I deemed it better not to obstruct you and your attention. I do not live locally and depend on my parents to drop me off for my classes. Just as we were about to leave for my class, our car broke down. It took some time for the mechanic to show up and fix the car.
The distance from home to school is not reason enough to come by walk. My parents will make sure to avoid such situations. In case of such uncertain situations, my parents can drop me at the school using other means of transport.
Apology letter for being late to school
I am writing this letter to apologize for being late to school every day. I know every school has its own rules and regulations which are very important to follow. I have no intentions to break the rules. It has been a week since I am not able to come to school on time. My teachers have a lot of expectations from me which I try to live up to.
We have recently moved to a new society which is far from the school. My most common means of transport were a school bus. Since I shifted to this new house, the school bus does not come in here. I have been using public transport for school these days.
The public transport is not only poor in terms of timings but also very overcrowded. My parents are trying to figure out a better commute.
Please accept my apology and I promise you to abide by school rules and come on time moving forward.
Apology Letter for being late to college
I am writing this letter to apologize for being late to college the other day. I am a second-year student and my student ID is [X].
I have been living in the student hostel since I moved to this city. Living alone is a big challenge for me as I must manage the daily chores along with my studies. I put an alarm on every day. Yesterday my alarm rang, but I just had a lazy eye and I slept again. When I woke up, I was late. I acknowledge the fact that this is negligence on my part. But I promise you to be more vigilant about my timings. I have decided to wake up and get ready one hour before the class every day.
I will catch up on the missed lecture and report to you on my performance on that.
Apology Letter for being late to work
The objective of writing this letter is to apologize for coming late to work on Monday. It was an unfortunate day. I left home at my normal time but then I met with heavy traffic on my way. Unplanned construction work was going on on the central roads. There was no prior notice given.
I had to change my route which was longer than the normal route. Due to the construction work, there was a lot of congestion on the roads. I deeply regret being late to work. I have always tried my best to reach before time. I have figured out an alternative route to work.
I can promise to not let this happen again. I am working extra today to make up for the missed time. I have met any pending deadlines already and notated an apology to everyone.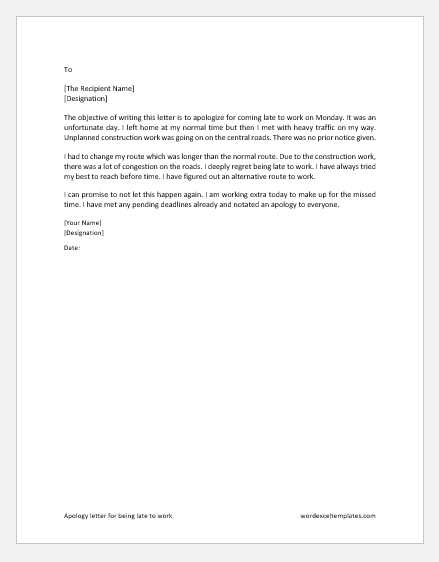 See also: