This letter is written to an employee when he has been found to have submitted the wrong mileage claim. Most of the companies authorize their employees to use the facility of mileage claims. Still, there are some who use this facility in the wrong way in terms of putting extra mileage they had never traveled in the claim. In this way, they commit forgery so as to be paid more than they had traveled.
Good evidence of care is those offices of internationally recognized companies are filled with heavy documentation of travel bills that have been claimed by employees. Such employees are also found to have been existed who manipulate and exploit this facility by putting wrong information in their claims about traveling. Under these circumstances, the company has no other option but to issue a warning letter to such dishonest employees.
Advantages
Through this letter, the employee is given a chance, to be honest, and careful in the future.
He becomes more concerned about his job once he has been issued a warning letter.
Consequently, he becomes more vigilant after being warned.
The employer writes this letter in certain conditions when:
He finds that the mileage mentioned in the bill has not been traveled.
An employee provides wrong information about his traveling.
An employee tries to exploit the company through forgery.
Sample -1
12-05-20XX
Andrew Johnson,
Alfa Pvt. Limited, Michigan.
Dear Johnson,
I am issuing you this warning letter to express our concerns about your malpractices regarding mileage claims. It was brought into management's notice that you provided wrong information about your mileage and that is why I am contacting you on behalf of Alfa Company.
Our company has its own prestige and we strive hard to provide our employees with many facilities as we can. Claiming for mileage is one of such great facilities that we provide. We become surprised when, despite such a facility, an employee tries to present wrong information about the mileage he has never traveled. Your account has been documented with countless mileage claim bills submitted by you at various times. Each time, we paid you the amount you mentioned in your claims. You were caught red-handed last month when your mileage reports were not inflating the mileage for your actual traveling.
This act of forgery is prohibited here, and you are being warned through this letter not to continue this malpractice in the future. Failing which, we will be forced to review our policy and you may be deprived of such a facility.
At the same time, you are suggested to be respectful and give your company the respect it deserves from your side.
Regards,
Anderson.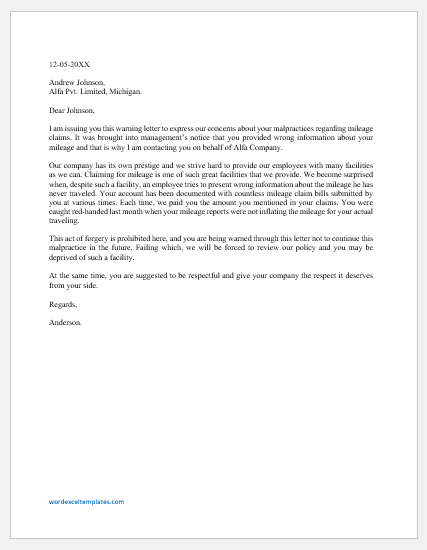 File: Word (.docx) 2007+ and iPad Size 19 Kb |
Download
---
Sample -2
Dear Alex,
In response to your manager's letter in which he complained to me about the wrong submission of mileage claim, I conducted an inquiry and found the facts as under:
You claimed for the mileages during lunch hours.
You claimed for the mileages during Saturday works.
You claimed for the days you were not working on.
I called your manager and asked him about the above-mentioned claims. He answered me that such claims are not admissible and wrong as per rules because no employee travels during aforesaid time slots Manager's point of view was verified later and your claims were proved wrong.
You must know that submitting wrong mileage claims is an offense and such an employee is liable to be terminated. But, instead of terminating, I am giving you another chance to rectify yourself. Consider this letter as a final warning from the company. You are further warned that any violation of this nature will lead towards your termination from a job.
Regards,
Anderson.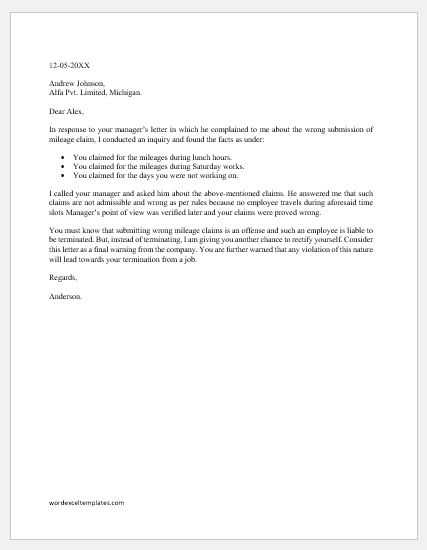 File: Word (.docx) 2007+ and iPad Size 18 Kb |
Download
---