In many companies, an employee is authorized to be reimbursed for a limited amount of expenses spent while performing his duties. Sometimes, he claims reimbursement for wrong expenses which he does not deserve actually. In this particular situation, an employer can write this letter.
Bearing such employees is a high risk for any company. Claiming the wrong bill is a sort of fraudulent activity that is done intentionally. It may lead straight towards termination from the job. But sometimes, keeping in view the employee's previous record, the company only warns the employee. So in this situation, this letter can be used by the employer.
This warning letter can be uses in following situations when employee;
Claims the wrong expenses bill during local or foreign official visits.
Claims wrong or false expenses incurred while he stays in a hotel.
Requests the reimbursement of those expenses which had never been spent to purchase some items.
Claims more expenses than incurred ones.
Instead of inquiring such an employee orally, it is always beneficial to write him a warning letter. First, it will be kept as a reference for further correspondence regarding the matter. Secondly, using the letter instead of orally asking would help run the process smoothly.
Sample -1
16-05-20XX
Anderson
CEO Stars Marketing, Ontario.
Dear Jackson,
I am writing this warning letter to you with reference to your official visit to [X] for getting professional development training. At your arrival, you submitted expenses claim bills to the HR department for reimbursement. As per your claim, it was indicated that you stayed there at Grand Palace Hotel, Michigan. You claimed for an amount of USD 10,000 which was incurred in lieu of hotel bills, taxi fares, and return tickets. Being the CEO of a company, what I think is that you have claimed for some exaggerated expenses because some of them do not seem to be considered as company related matters.
Upon verification through one of our representatives, it was clarified that taxi was provided by hotel management for trips and actual hotel expenses were USD 5,000 but you claimed double than that. Claiming wrong expenses is a kind of criminal offense and its consequences can be disastrous for your job. Normally an employee loses his job after doing such an offense.
Although it is a termination offense to submit the wrong bills for the claim but keeping in view your performance, I am of the view that you must be given a chance to admit your mistake and to rectify it. Consider this letter a final warning and make sure you will not involve yourself in such activities in the future.
Regards,
Anderson.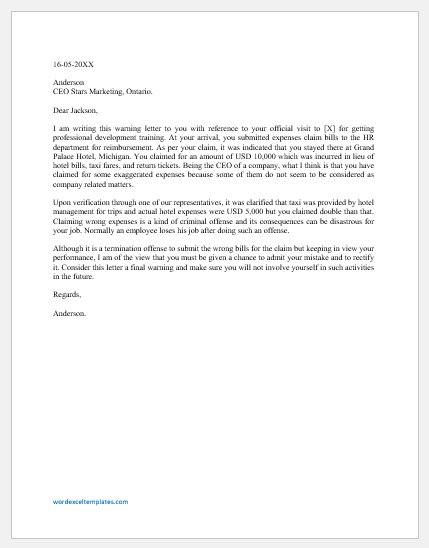 File: Word (.docx) 2007+ and iPad Size 19 Kb |
Download
---
Sample -2
Dear Julia,
This warning is being written to you after it was brought to my notice by your manager that you have involved yourself in a fraudulent activity after claiming wrong expenses during your official visit to [X] from 01-09-20XX to 09-09-20XX. This is purely an issue of integrity and indicates severe negligence on your behalf towards the moral values of the organization.
You must have kept in mind your responsible position of senior manager before claiming such wrong claims. Doing so, you have just made yourself liable to severe and necessary disciplinary action. In a renowned organization like ours, such blunders usually lead towards termination from a job as far as the severity of this action is concerned but our top management wants to give you another chance and you are hereby being warned to keep yourself away from such illegal activities.
You are required to consider this letter as a final warning from our side. Moreover, submit us a written explanation as soon as you receive this letter.
Regards,
Anderson.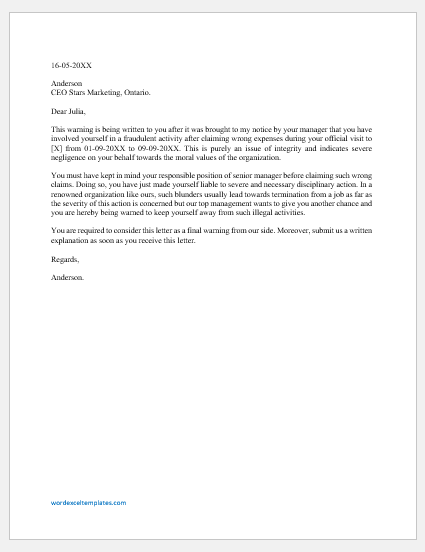 File: Word (.docx) 2007+ and iPad Size 19 Kb |
Download
---