Disciplinary action is taken against a worker who causes problems that are serious and intolerable for an organization. An organization lays down some set of standards to be followed and when an employee fails to follow them disciplinary actions are taken into account.
The purpose of conducting this action is never to infringe unlawful procedures upon the worker rather it helps him to identify his problem at sake. So, there's always a chance of improvement for him to work and polish the lacked qualities hereby depicting the use of this action: "Improving employee's performance". Moreover, disciplinary action can rather serve as an assessment and a warning depending upon the disciplinary conduct.
Disciplinary actions at the workplace
A disciplinary action can be conducted in five main steps:
Verbally conducted warning
Formally written warning
Conduct of disciplinary meeting
Demotion or loss of privileges
Termination
The very first step in directing an operation regarding discipline would be by providing a formal warning to the employee. It could be initiated by telling the violation of conduct and consequences by implying the lack of expectations on behalf of the company. After that, a formal warning can be issued indicating the lack of performance and misconduct on the part of the worker.
An organization may cast a meeting followed by a set of panels and coworkers to discuss the flouted act which may lead to investigating the root cause and coming up to a solution.
The consequence of that meeting would either decide the demotion, loss of benefits, pay-cuts, or in worst cases termination against this misleading act, again depending upon the nature of delinquency.
Employees working under a disciplinary measure
Disciplinary action can be taken on any kind of delinquency, but things could get rougher around the edges once it's taken. The worker is under the observation of the manager so there would be no chance of error.
At the time of transmission of disciplinary action, the worker should stay calm and refrain from violence. He should cater to his bad behavior and polish the undesirable performance.
Misbehaving would never solve his carry out rather it would deteriorate his own personality. Some may fall apart and lose their motivation for work, but one should keep himself reminded about the goals which kept him intact and prove to be the best in every cause. It's never the end of the world. There's always room for error and a room for progression.
Common violations of a disciplinary action
An employee can undergo some misconduct that may fall in major or minor categories depending upon minimal or substantial harm caused. Some of the common violation acts that the supervisor's experience is as follows:
Lack of work quality and not providing the expected results for which the employee was hired.
General misconduct could be anything related to harassment, breach of the law, causing harm or threat to a colleague, etc.
Taking absent leaves without informing the higher authorities
Misusing or leaking highly confidential information
Finishing the intended work after the due date. This could occur on a regular basis.
Harassing or indulging in a fight with a co-worker.
Showing impractical and unprofessional behavior.
Creating violence in the work environment
Violating the "No Smoking" or "No Alcohol Presumption" act.
Leaving workplace before time
Disobeying or not being honest with your boss.
Taking long lunch breaks.
Warning letter:
A warning letter is written to an employee who behaves without accordance with the company and misconducts an act. Usually, the HR manager writes a formal letter to evident the issue or to explain about the personnel's poor performance.
The manager will have to put forward the points which the worker must produce in order to gain stability, keeping in mind the company's policies.
A warning letter is useful for future use at the time of conducting termination or reviewing staff's performance in detail. On the other hand, the employee will understand the importance and conducts of the organization he is working with.
Things to-do while writing a warning letter:
Although it is advisable to first give a verbal warning and then proceed to a written formal letter but still if the matter blusters then one should go for a warning letter. Here are some of the points to keep in mind while writing a letter:
Keep a determined yet professional tone in the letter
Maintain privacy with both the letter and employee
Describe the misconduct and the consequences
Check the formal guidelines and consult the higher authorities
Keep your emotions and personal values aside
Don't be unfair and remember your moral and ethical values
Don't degrade the worker in front of his colleagues, again keeping in mind the privacy of the letter.
In the end, don't forget to obtain signatures of the employee on the document.
Warning letter for a disciplinary violation
[Employer's Name]
[Employer's Designation]
[Organization]
[Address]
[City], [Zip Code]
[Date]
Subject: Warning for Disciplinary Violation
Dear [Employee's Name],
We care to inform you about the recent incident that took place on [Date]. We took notice of [The Incident] and this misconduct can never be tolerated in a work environment like this. We would rather take the matter very seriously and imply an official warning.
Our company aims to achieve excellence by teamwork and performance activists. We all consider ourselves a part of this bigger team and strive to achieve discipline and a safe working environment. So, we expect our fellow colleagues to follow these guidelines, unlike in your case the violation of Company Policy [Policy name, Section and Page number] was committed.
Since we found you violating Company's policy, thus we are giving you a warning letter which contains [Days] of violation period. It this phase we hope you improve your performance for your own good because a team of supervisors would be closely monitoring you. Any violence and un-disciplined action will lead you to further penalties.
We hope to see good behavior reflecting both your personality and work. If not, we may proceed to suspension or termination on your behalf.
Sincerely, Employee's Signature: [Signature]
[Your Signature]
Dated: [Date]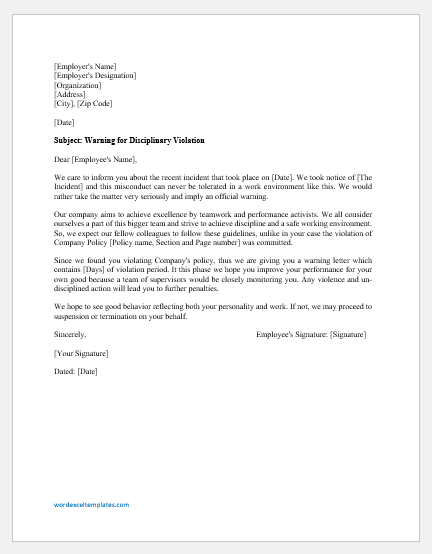 File: Word (.docx) 2007+ and iPad Size 20 Kb |
Download
---
Warning letter for bad performance
[Employer's Name]
[Employer's Designation]
[Organization]
[Address]
[City], [Zip Code]
[Date]
Subject: Warning for Bad Performance
Dear [Employee's Name],
We are writing this letter to notify you about your ill performance which has been affecting the quality of your work lately. According to your recommendation letter we hired you to fulfill some major aspects of this company. Therefore, looking to conduct with the letter, we
recommend you improve the standard of your work.
Your supervisor had already informally guided you but still, we couldn't look at the enhanced quality of your work. We finally advise you to reshape your qualities and meet the requirements for which you were hired. This is certainly a warning because we believe you are a good asset to our company, and you may have the potential to improve.
Looking forward for a work filled with passion and enthusiasm.
Sincerely, Employee's Signature: [Signature]
[Your Signature]
Dated: [Date]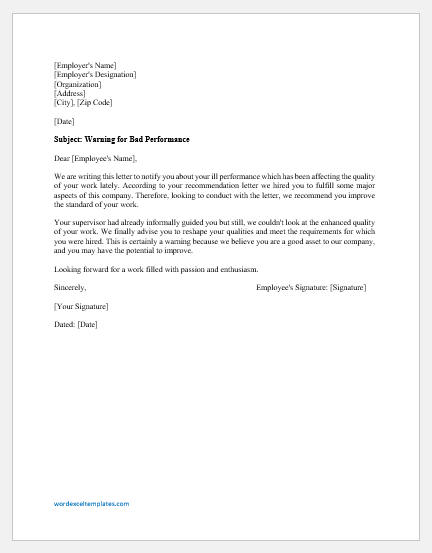 File: Word (.docx) 2007+ and iPad Size 18 Kb |
Download
---
Warning letter for unprofessional behavior
To,
[Employer's Name]
[Employer's Designation]
[Organization]
[Address]
[City], [Zip Code]
[Date]
Subject: Warning for Unprofessional Behavior at Workplace
Dear [Employee's Name],
This letter serves as a formal warning letter to inform you about your unprofessional behavior in the workplace. We have been conducting your unprincipled behavior for past [Time Duration]. We ignored it at first and thought of you to learn from your mistakes, but your supervisor had been experiencing [The Issue] for a long time now therefore we proceed to give you a warning notice.
Our work environment ensures the quality, performance, and discipline of every worker. Any kind of misconduct won't be tolerated. As a result, being the [Your Designation] of this company I notify you to show some professionalism while dealing with your co-workers, keeping in mind all the company policies.
Looking forward to improved behavior. You can feel free to contact me regarding any concerns.
Sincerely, Employee's Signature: [Signature]
[Your Signature]
Dated: [Date]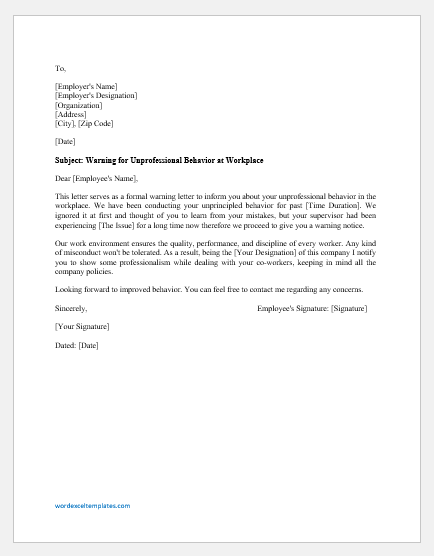 File: Word (.docx) 2007+ and iPad Size 22 Kb |
Download
---