Non-compliance sometimes becomes a major issue in the workplace. For many employers, it is a hard nut to crack. However, some of them manage to deal with it by adopting certain methods. One of the most effective methods is to write a warning letter to the employee.
Why employee needs warning for not complying?
Every organization has some rules that it wants everyone to follow. These rules are necessary to follow because compliance with them maintains discipline at the workplace. Due to this, many organizations have strict laws and policies for all those people who don't abide by the laws of the company.
Furthermore, not complying with these rules sometimes also causes inconvenience.
Many employees break the rules without even realizing it and sometimes, they do realize it but they find it ok to be out of line. For such people, a warning is the best way to make them correct their actions.
How to give a warning to the employee for not complying?
There are a number of ways in which the employee can be given a warning. Some employers give warning to their employees by calling them in their office and then speaking to them in person. This type of warning is called a verbal warning. A verbal warning is effective when you are warning your employee for the first time.
Another type of warning that the employer gives to his employee for not complying is writing a warning letter. Writing the warning letter is the best and most professional way to warn the employee about his non-compliance
What to include in the warning for a non-compliant employee?
When an employee does not comply with the rules of the company or work, he becomes less productive and does not bring anything useful to the table. The company has a right to correct the employee's behavior so that he can be a productive part of the company and learn some professionalism. Here are the details one can add to the warning for non-compliant employee
Tell the employee that he has been non-compliant and it is unacceptable for the company to bear this attitude.
You can also give an instance to elaborate on what you are trying to say. Sometimes, the employee doesn't understand where he has shown the non-compliance. Giving an example can make him understand it well.
Mention the consequences of not complying with the rules and policies of the company once the employee has been warned. The warning letter should make the employee conscious about his act so that he can work more cautiously and make sure that he does not show non-compliance.
In the end, the warning should make the employee realize that he needs to work on his behavior.
The employer should ensure that he is not being too rude while warning the employee. This also puts a negative impression on the employee and sometimes, the employee becomes rebellious when he is warning rudely.
Sample Letters
Letter -1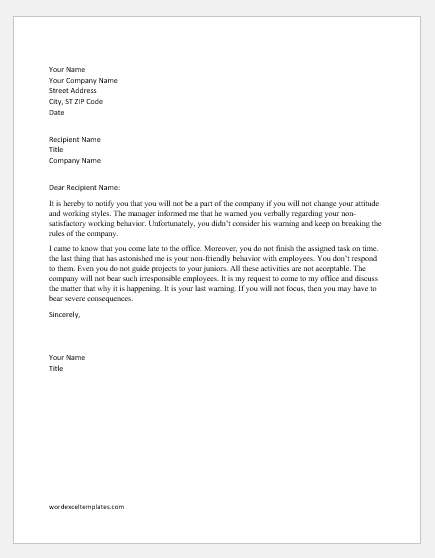 File: Word (.docx) 2007+ and iPad Size 22 Kb |
Download
---
Letter -2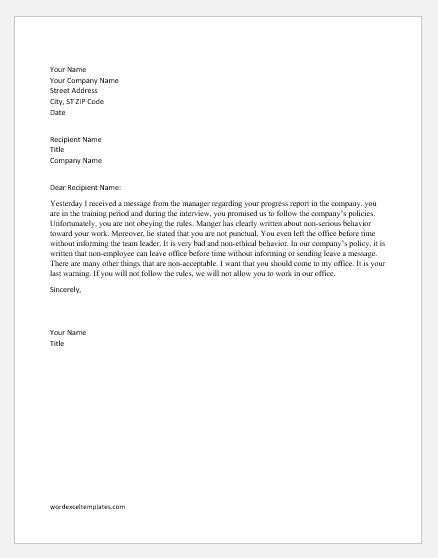 File: Word (.docx) 2007+ and iPad Size 23 Kb |
Download
---
More Samples
1-
John Marshall Groups
D-floor KBK Tower
New York, USA
9th April, 20XX
Hemmed Collingwood
212-Nishat Street
NY, USA
Re: Warning for Miscommunication and Bribery
Dear Collingwood,
The purpose of penning here is to send you an official warning for the violence of the company's rules and regulations. It is informed to the company with valid proof that you have been involved in taking bribes by promising the clients to leak secret information of the company. It is also apprised that you have been miscommunicating the company regarding its serious interests. The company is unable to abide by such immoral and illegal demeanor.
The company is very well reputed since its inauguration for its professionalism and well-conceived projects. Leaking the company's confidential information, miscommunicating with the company, and taking bribes from clients can charge you with serious penalties for breach of confidentiality on the civil or administrative basis of legal codes. It is in serious harm to the company and the company is invited to take any legal action against you.
Collingwood, since you have been working in this firm for a long and are an asset to the company, it decides to notify you of the violence you have committed as a warning note-keeping it confidential from others. Furthermore, you are given three months to return all the loss to the company i.e. $500,000 ordained with an apology letter to the company shaping it a promise to never do that again. In case of not acting upon what is directed or relapsing, the company can terminate you and can take any legal action on the grounds of your misconduct.  
Sincerely
(Signature)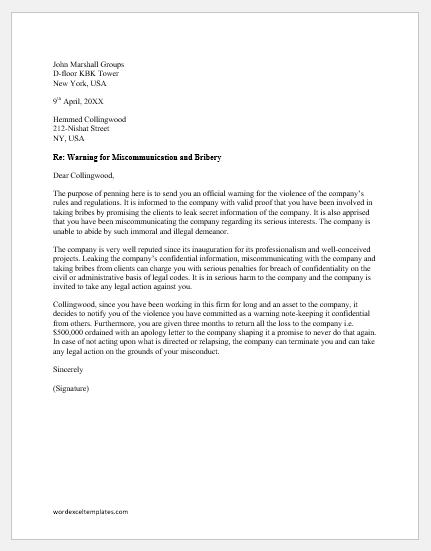 File: Word (.docx) 2007+ and iPad Size 21 Kb |
Download
---
2-
AHS Renovations and Repairs
G-89c Chris Square, Raleigh
North Carolina, US
9th April 20XX
Stephan Hokan
Chapel Hill, Raleigh
North Carolina, US
Re. Warning Note for the Refractory Code of Conduct
Dear Hokan,
It is discovered that your code of conduct has been shambolic and sloppy for one month with the party at AHSRR. Administrative authorities have informed you that they have asked you several times but no considerable changes in the conduct have been found. It has been observed that you are arriving late at the office and leaving earlier from one week which has got the shape of your routine. Moreover, your performance at work has been immensely wretched and inadequate. Straight five assignments and the projects are given to you did not end up successfully.
The company aims at making its environment highly professional and its workers highly proficient. This kind of misdemeanor is affecting the whole working environment as you own a very significant designation here. Hokan, you know that the company has already been going through a serious intractable crisis due to anterior policy changes by the government. This is to notify you that in case of protraction of this behavior you can end up in termination of your job or elimination of designation. You possess a proactive personality and the company values your skills. The company hopes that you will not leave any chance of proving your abilities and take serious note of this warning.
Sincerely,
(Signature)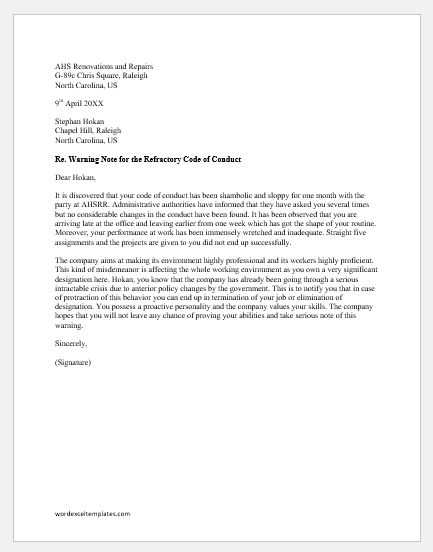 File: Word (.docx) 2007+ and iPad Size 23 Kb |
Download
---