People working online or working from home are often invited to attend the video conference. Companies contact their employees working remotely for the company for many purposes. Meetings are organized in almost every organization whenever there is something very important to address.
These days due to the coronavirus epidemic, most of the people are working from home. Companies are organizing video conferences on different platforms such as Skype. Companies usually use a proper way to invite their employees to a video conference. They write the invitation letter or an email to all the employees.
Why is a video conference invitation letter to staff-written?
In many situations, it is important to tell the employees that they cannot miss the video conference. When the conference invitation letter is written, the employer can tell his employees that they must attend that conference. Furthermore, the employees are also told that on what topic the conference is to be conducted. This helps them prepare for the conference. The employee is also told the agenda of the conference by writing the video conference invite letter
Tips for writing an invitation to a video conference
Here are the guidelines to help you write the invitation to video conference
Mention the date on which the video conference is to be held clearly. This will make sure that all the people being invited have learned the date and time of the video conference.
Since every conference is held with the purpose, don't forget to mention the purpose of the invitation
The guidelines to be followed by all the attendees while attending the conference should be pronounced in the invitation.
Make sure that your invitation letter is free from grammatical and spelling mistakes.
If the invited people must attend the conference, mention it in the invitation letter. Also, tell the invited people that the company will appreciate their presence.
Sample letter
From:
Date:
To:
Subject: Invitation to video conference
As you know the coronavirus outbreak has made all of us practice social distancing, we are compelled to work for the company from home. Our company wants to ensure that every employee stays safe and healthy. Keeping this in view, we have decided to conduct a video conference to communicate some important matters with our employees.
We are inviting all our employees to attend the video conference that will take place on the coming Friday at 10 am.
The conference will include all the important points about the project the coming is going to start. We will guide all our employees on working on the new project. All the employees must attend the conference.
The employees are requested to be available for a video conference on the aforementioned times. Also, make sure that you do any other work at that time to stay more focused on what is discussed at the conference.
Your attendance at the conference will be highly appreciated by the company.
Best regards,
Name
Signatures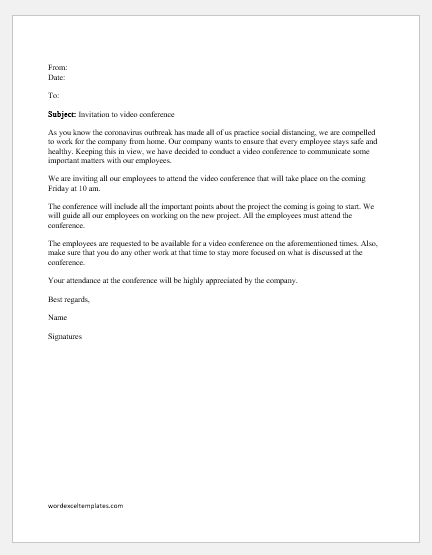 File: Word (.docx) 2007+ and iPad Size 18 Kb |
Download
---