Truth can always save one form veil and revealed troubles. Once, we speak the truth we have nothing to worry about. When we tell a lie, we always face troubles and worries at every step.
Many situations come when an employee refuses to tell the truth or complete the requirements needed. Like there are some tests that need to be conducted at the workplace regarding the employees. These tests are taken monthly, quarterly, mid-yearly or annually depending on nature and type. Among such tests, one is an alcohol or drug test. This test is mostly taken on the monthly basis to ensure that employees are not having any kind of addiction.
The warning letter is written by the management to an employee who refuses to submit the reports of the medical tests. The letter must highlight the company policy that every employee must go through these tests as a routine checkup and be denying the directive can lead to serious consequences.
When a refusal is seen on submitting the alcohol or drug test, a warning letter is issued to the employee. This warning letter is issued in many circumstances like:
When an employee fails to submit the drug and alcohol test on the due date.
When an employee is wedged submitting a fake report of alcohol and drug test.
When an employee abuses the medical team to take an alcohol or drug test. Thus, refusing to submit the report.
This warning is issued promptly. It contains the name of the employee, the last chance, the signature of higher authorities. Additionally, it must include the clauses mentioned in the job contract signed by the employee regarding failure to follow the respective order.
A template warning letter is attached as follows.
Sample Letter
This letter is a final warning written to you after issuing of many verbal warnings which had no effect on you at all. This is the company policy that we cannot endure anyone who tries to take it lightly.
All the employees must present themselves for drug test no matter what. It has been reported that you are constantly making excuses to avoid appearing for the test which itself is a misconduct. The company does not indorse reluctant attitude once you have been directed to undertake an official procedure.
We are committed to maintaining a safe environment in the workplace. In the effort, we cannot tolerate any behavior or negligence by any individual working in the company.
Any excuse in this regard would be considered as a violation of company policy. You will be dismissed from your position without providing a further chance. Hopefully, you will cooperate with the management to maintain a healthy environment.
Preview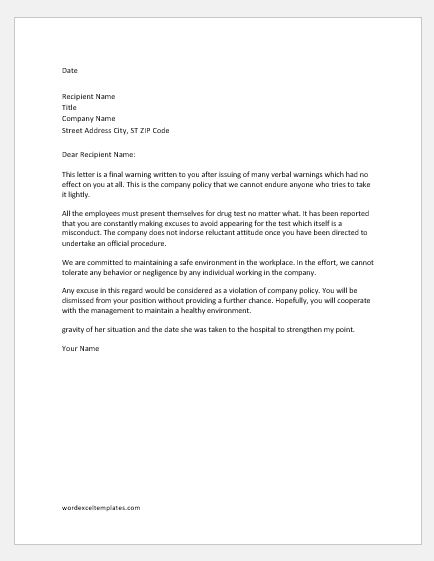 The letter template
Format: MS Word [.docx]
Options: Download