Uncertainty is a part of life. It can occur anywhere anytime. But, the world's advancement has provided numerous ways to cope up this situation. Illness or disease is just like uncertainty. Many times, it happens that a person who is looking healthy and energetic is diagnosed with a serious disease.
In the same way, seasonal changes bring some illness also. But, all kind of illness or disease can be cured, if they are diagnosed on time. Hence, sickness of any kind needs special attention to get fine as soon as one can.
Likewise, if an individual is a student or a professional they need to inform about their illness to their school or workplace. The best way to inform is to send an absent letter.
The letter is written to the school principal or class teacher when a student fells ill and is unable to attend the classes. It is necessary to inform the class teacher so that s/he can take care of the missing work for the student. In some cases, a teacher informs the student on phone about the homework or assignment that was given to the class on that day.
It is good to inform the teacher about the illness as soon as possible. If the illness of the student causes a few days for being absent, a parent-teacher meeting must be arranged to discuss the study deficiency.
The absent letter for getting sick can be sent in a number of ways. These are as follows:
If a student has some medical appointment regarding the medical treatment of some sickness. The letter could be sent.
If a student suddenly gets ill due to severe weather during assessments, an absent letter should be sent.
This letter must contain the name of the student, name of the school, the grade of the student. Parent's signatures are must in this letter. A copy of medical treatment going on must be sent. A prescription copy must be sent regarding the rest given by the attending physician. The tone of the letter should be very respectful, polite and regarding.
Sample Letters
#1
My son could not come to the school for two days because of illness. He was caught by severe cold and was suffering from high fever and sore throat. Thanks to the Almighty that he is feeling much better now. I am sending him school today so that he can continue with the class. Please help him in catching up with the previous lessons.
I have also attached a copy of his report and doctor's note for your convenience to understand the situation.
Sincerely,
#2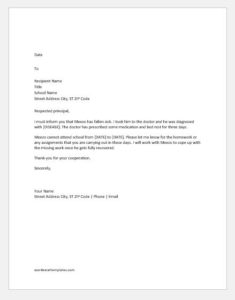 Hello Gem,
I must inform you that Meezo has fallen sick. I took him to the doctor and he was diagnosed with [DISEASE]. The doctor has prescribed some medication and bed rest for three days.
Meezo cannot attend school from [DATE] to [DATE]. Please let me know for the homework or any assignments that you are carrying out in these days. I will work with Meezo to cope up with the missing work once he gets fully recovered.
Thank you for your cooperation.
#3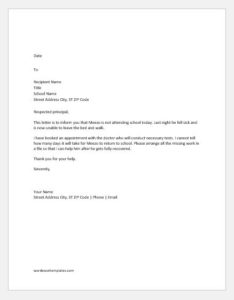 Hello Peck,
This letter is to inform you that Meezo is not attending school today. Last night he fell sick and is now unable to leave the bed and walk.
I have booked an appointment with the doctor who will conduct necessary tests. I cannot tell how many days it will take for Meezo to return to school. Please arrange all the missing work in a file so that I can help him after he gets fully recovered.
Thank you for your help.