An operational mistake is a kind of negligence of duty. Although a mistake cannot be attributed to negligence always, the employer does not tolerate the mistake of the employee if he repeats it. When the employer notices that the employee is not correcting himself and he has been seen many times making an operational mistake, the employer can warn him by writing a warning letter.
When to write the warning letter to someone due to operational mistakes?
The operational mistakes of the employee can be seriously harmful to the company. Therefore, the company has some tactics to deal with employees who don't seem to correct their mistakes. A company writes a warning letter to such employees to let them know about the repercussions of repeating the mistake.
Tips for writing the warning letter due to operational mistake:
If you want to make sure that your employee takes your warning letter seriously, you will have to draft it in such a way that it compels the employee to ruminate on his mistake. Here are the tips for you:
Let the employee know about the operational mistake:
If the employee is new to the company, he may not be aware of the mistake he is making. In this situation, it is of utter importance for you to tell your employee about it. Therefore, you should always start the warning letter by telling the employee in what way he has shown negligence of the duty.
Tell the employee about the warning letter:
When you write the warning letter to your employees for any reason, let them know that they should consider your letter as a warning letter. You should also tell the employee that he should not repeat the mistake to avoid serious consequences.
Mention the consequences:
To make the letter more effective, tell the employee about the potential consequences. For an operational mistake, you can fire the employee or you can make a deduction from his salary. No matter what you want to do, let the employee know that he will have to face the consequence.
Sample Letters
1-
To,
Michelle Henry
46-K, third floor
Rhodes building
Michigan, USA
11-04-20XX
Subject: Warning letter for operational mistakes
Dear Henry,
I was very excited about the day when I hired you as an assistant to my company manager. The reason was that I found you zealot and enthusiastic throughout the recruitment process and you proved your worth for a couple of months. I was surprised yesterday when I received your manager's letter in which he enlisted a lot of operational mistakes exhibited by you on many occasions.
Most strikingly, he wrote that you are not conversant with the filing work which is supposed to be your whole and sole duty. You are not keeping the record updated which is thought to be the backbone of any company. You know such kind of behavior carried out by you is considered sheer negligence and it proves one's worthlessness.
The company is not in a position to withstand such kind of behavior again and again. Keeping in view your previous record, I am not highlighting the issue to the top management because I believe that with little training and guidelines from your seniors, you can make your performance better.
At the same time, I warn you not to repeat these mistakes again in the future. If even after training, you are found to have been making the same mistakes again, I will be forced to send your report to the top management, and you may lose your job right away. Therefore, consider this letter as a final warning and assure your best and error-free performance.
I hope you will keep in mind all the things.
Yours sincerely,
Anderson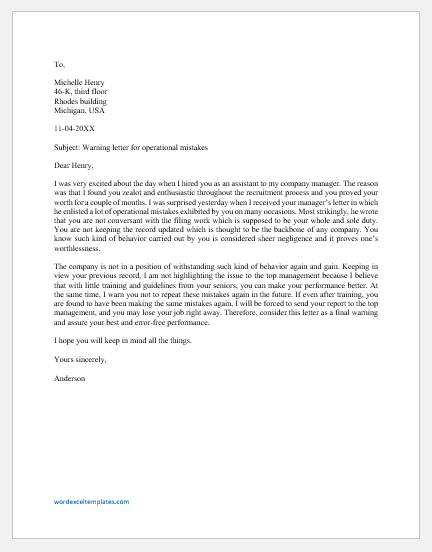 File: Word (.docx) 2007+ and iPad Size 17 Kb |
Download
---
2-
To,
John Tyson
36-K, second floor
Potter's building
Michigan, USA
11-04-20XX
Subject: Warning letter for operational mistakes
Dear John,
There are so many unsatisfactory operational aspects that have been found in your work and behavior in the office. To me, striking one is the late submission of reports which are supposed to be submitted every Friday, but you were failed to do so. Your shift manager has also complained to me about your poor performance and continuous mistakes while doing the assigned tasks.
I held a meeting with you last Monday and you promised me not to repeat the mistakes in the future, but I regret to say that you have failed to keep your promise. 
Your performance is not on par with the company standards. It is a clear indicator of the fact that you either have not a full understanding of job nature or are doing it deliberately. Consequently, heavy losses are being incurred to our company on account of your repeated mistakes.
You should have approached your immediate boss if you had faced any problem, but I am sure you did not bother to do that. Apart from all these facts, your manager said that you need the training to make you fully familiar with your job duties.
Keeping in view all the factors, you are hereby being warned not to repeat such mistakes in the future. Get yourself acquainted with the job knowledge for making your performance better. If I receive a further complaint about you, your services will be liable to be terminated without any prior notice.
Yours sincerely,
Anderson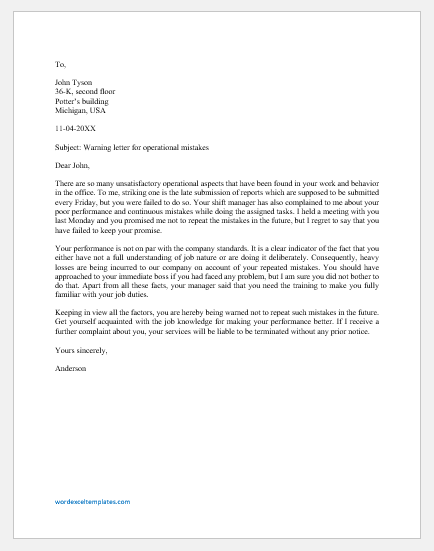 File: Word (.docx) 2007+ and iPad Size 20 Kb |
Download
---