Attending office meetings are part of a job. There may be situations when you were occupied due to some personal work and could not attend the meeting. The reasons are unlimited for example, attending your kid's school for a parent-teacher meeting, attending a funeral, having a doctor's appointment, or bad weather. The situations are uncertain and sometimes unavoidable that puts a halt on your workplace activities.
In a situation when you were occupied and could not attend the office meeting it is good to write to your boss an excuse letter. Writing an excuse letter is a formal way of informing your boss that you met an uncertain situation that makes you absent from the activity.
It is good to write to your boss if you already know the reason. In this situation writing your boss makes him aware of your absence and he can manage it either by changing the date and time of the meeting or carrying it along in your absence. Whatever the situation you are in the safe zone of your boss's mind.
Email to the boss to excuse you from the meeting is a formal piece of writeup which an employee draft to his/her boss in the situation he/she couldn't attend a meeting due to an uncertain situation. Writing this email enhances employee's credibility and is considered as a responsible behavior shown by the employee.
The following emails are helpful in the situation you are occupied and want to write an email to your boss.
Email -1
Subject: Excuse from meeting
Dear Sir,
I am sorry and want to express my feelings of apology in front of you because I did not attend the company managers' meeting held on 14-04-20XX. I had no idea that in my absence, you will be asked several questions about my work.
Being a responsible manager, I had to be there but an hour before the meeting, I received a call from my son's school head that he involved in a fighting incident with a group and as a result, he received many serious injuries. I did not think anything at that time except for my son's life. Although his mother could have attended him you know it required rapid decision-making power at that time and I thought myself as the best option. Consequently, I ran towards the hospital. When I got myself free from the hospital's formalities, meeting time had passed. He is fine now and out of danger.
I request you to pardon me for this act. All of it was so sudden that I could not attend the meeting. But at the same time, I am eager to know about the new policies of the company. So, please arrange a separate meeting for me if possible. I hope our association will not be affected at all owing to this act.
I hope again that you will accept my excuse.
Yours sincerely
Anderson
Assistant Manager of Stars Marketing Company
Michigan, USA.
15-04-20XX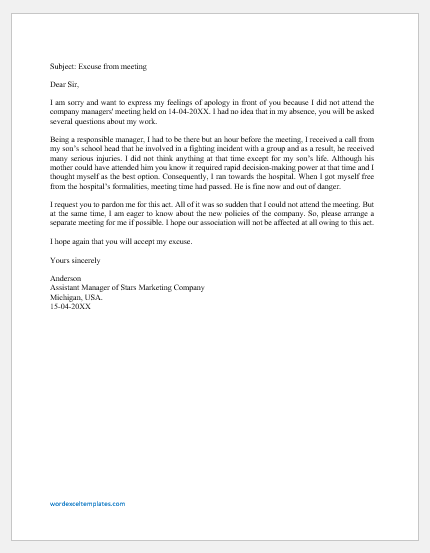 File: Word (.docx) 2007+ and iPad Size 21 Kb |
Download
---
Email -2
Subject: Excuse from meeting
Dear Sir,
I am sending this email to you to submit my excuse for the act of negligence that I did. I admit that I received your email about meeting well before time. Just one and a half an hour before the meeting, I received a call from Brooke's Hospital, Michigan that my first cousin, named John, was severely injured in an accident and admitted to the hospital. He is living all alone in this city without his family. I was the only person at that time who could be contacted. So, without wasting any time, I rushed towards the hospital. On seeing his condition, I did not dare to leave him alone there since he got severe head injuries and he is still in the comma.
He needed complete attention and care at that time so I stayed with him until his family members arrived there. It was due to the above-mentioned problem that I did not attend the meeting though I was informed earlier.
I know how important it was to attend the meeting but I am highly regretful for not being there. I would not have even thought about missing this meeting if this problem had not occurred. I am hopeful that you will understand the delicate nature of the problem and accept my excuse.
Thanking you in anticipation.
Yours sincerely,
Anderson
Assistant Manager of Stars Marketing Company
Michigan, USA.
15-04-20XX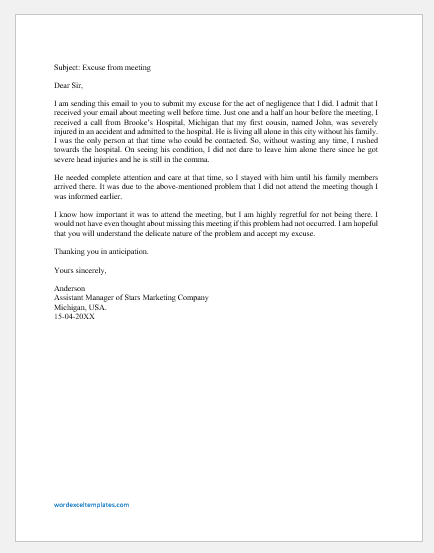 File: Word (.docx) 2007+ and iPad Size 19 Kb |
Download
---