A product marketing proposal letter is a document written by an individual or by a service provider highlighting the key plan of marketing strategies for the product of the customer. Marketing strategies adopted by the service provider could be print media layouts, electronic media ads, social media shoutout, or email campaigns. The document is a good way of communication between the service provider and the customer.
A proposal letter is a document that introduces a marketing services provider to the customer while providing key insights into the needs of the customer. A service provider can highlight the traits that make his company stand out among others in terms of better services and unique strategies of marketing. The letter can be written by
an individual by himself or working as a consultant
a company looking to offering services or establishing a joint venture
The proposal letter differs from a proposal. Unlike proposal, the letter serves as a mean of an instant introduction to a potential client and to build interest to go through a detailed proposal (which is mainly attached with the letter), whereas a proposal is a detailed document comprising not only an introduction but all relevant details for a service likely to be offered or a deal certainly to be closed. But, for small projects, the letter itself may serve as a proposal.
When it comes to launching or selling a new product, product marketing plays a vital role in tapping the targeted audience. It involves the process and strategies that enable a seller, manufacturer, or company to promote, market, and sell the desired product. The process involves making the best use of positioning, pricing, and advertising the product in a way that maximized return on investment is ensured.
Various companies or consultants offer services for product marketing by rolling out proposals. Below are mentioned few tips to write an effective proposal for product marketing:
Identify the need(s) or the problem of the potential client. Research on what is the key problem your client wants to address. It is effective when you are already aware of the respective need because it helps you structure your services by offering a solution.
While writing a proposal, begin with by mentioning the problem statement which you or your company can provide a solution for. If there has been any earlier correspondence, refer to it and introduce what you or your company can do.
Suggest a solution, and how you or your company can achieve the desired outcomes. This should not be written comprehensively, only an overview of the basic strategies and the framework should be communicated including how the success will be monitored and evaluated.
Highlight the distinctive traits that make your services stand out in the market and give you a competitive edge.
Conclude by mentioning clear call to action – provide all relevant details on how you or your company can be approached and what is the way forward to proceed with the services.
Product Marketing Proposal Letter Template
Date
Name of Addressee and designation
Address
Dear Mr./Ms. [X]
Thank you for writing to us and inquiring about the product marketing services of our agency. You described that your company would be launching 'Product P' and you need our portfolio and the strategic plan of our company that can boost the sales of your product through digital marketing.
At XYZ Company, having an active network in 12 countries, we have over fifteen years of experience. Our international network consisting of 25,000 employees is dedicatedly working to provide full-service product marketing to our clients like Company A, Company B, and others. We provide our clients with a road map and strategy for customer acquisition, customer retention, and cross-sell/up-sell by search engine optimization (SEO) and search engine marketing (SEM).
Our company would focus on:
Improving your online presence and performance by providing custom-tailored recommendations
Keeping your product ahead of your competitors, for prospects and existing customer, by opt-in email marketing
Boosting traffic for your product sale through search engine optimization and search engine marketing. Our certified professionals know the tools and techniques to keep you on top
Carrying out detailed audit and competitive analysis for your existing website to generate more traffic and conversions, by developing content building strategy through market research
A detailed proposal will be shared by us on request. For any further information, you may reach out to us. Hoping to hear from you soon.
Sincerely,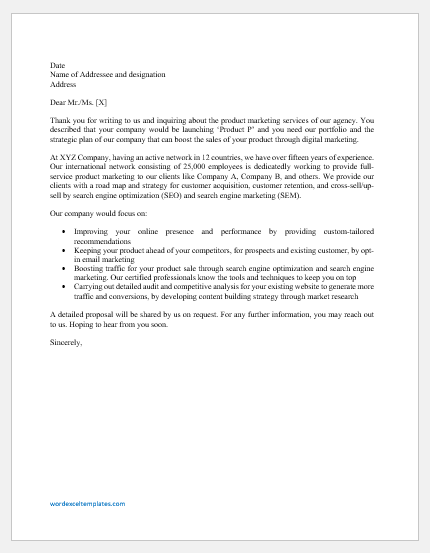 File: Word (.docx) 2007+ and iPad Size 22 Kb |
Download
---