Employees in every organization are expected to perform up to the mark. However, when they fail to do so, they are held accountable for this. There are lots of reasons behind poor performance. Employees use different performance measures to determine if the employee's performance is satisfactory or not.
For a person working in the sales department, it is eminently important to meet those targets set by the company. The number of sales an employee has carried out is a string parameter that describes how well an employee is performing. When a company finds out that sales targets are not being met, it keeps salespersons under observation. This makes it easy for it to evaluate the root causes of declining sales. The company then writes a warning letter to all those employees who are responsible for all this.
What is a warning letter for poor performance in sales?
The sales department in any organization holds a special place since it generates revenue for the company. What drives the sales department to success is the people working in it. There are different performance measures for the sales department also. These measures let the employer know how the salesperson is performing. If he doesn't perform well, the company can take some steps to bring him back on track.
How to write a warning letter for poor performance?
An effective warning letter communicates all the required details in such a way that the recipient quickly understands the purpose and meaning of the letter. There are three main paragraphs in the letter that targets a different type of information:
The opening paragraph of the letter:
This is the first and foremost part of the letter that captures the attention of the reader. In this paragraph, you are required to come straight to the point. Simply tell the reader it is a warning letter. Entire the same part, you can make a list of problems you have with his performance. If there is an incident you want to mention, add it with the date and time (if possible).
Middle paragraph:
Most warning letters also recommend actions that can be taken to correct the problem. The recommendation can be given right after you have stated the problem. If you have any other instructions to give about correcting the problem, specify them in the same part of the letter.
Closing paragraph:
The closing paragraph should be written with a positive approach. In this part of the letter, you should express hope. This will make the employee realize that there is still some time to improve. For boosting his morale, tell him that he is still valuable to the company.
Sample letter
Name of the employee
Address of the address of the employee
Subject: Warning for poor performance in sales [X]
Dear Mr. Johansson,
Yesterday I happened to see the sales report for the previous month. I was so astonished to see that the sales department has not been meeting the monthly sales target set by the company for the last few months. It is a very alarming situation for the company.
Your sales report is also indicative of your performance. I can see that you are not performing as you used to perform earlier. I can attribute poor sales reports to bad circumstances. But since I have received many complaints against you, it is a fact that your performance is deteriorating over time.
I have been informed that you are often absent from work, and you have also been seen using your mobile phone during duty hours.
Please consider this letter as a warning letter from my side as our company is in dire need to have such salespersons who can give exceptional output. Additionally, it is expected that you will improve your performance.
If you have any queries regarding this letter or you want to say something in your support, you can write back to me. I can also arrange a meeting with you if you want.
Please bear in mind that if you don't improve your performance, we will be compelled to replace you with some energetic and enthusiastic people who can give the expected output.
Regards,
Name of the sender
Signatures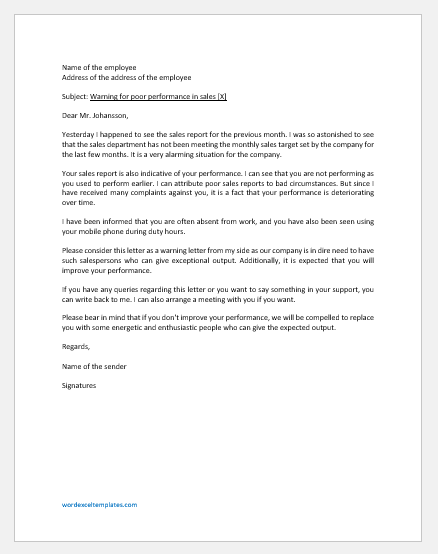 Size: 20 KB Word .doc File 2003 & later
Download
---