When an employee does not perform his duties well, employers have to take action. There are plenty of ways in which the employee can be motivated to perform his duties again. Employers meet them in person and ask them as to what causes them to show negligence at work. Some employees also give verbal warnings to the employees. Writing the warning letter is a kind of strict disciplinary action that an employer writes as the last try to ask the employee to improve his performance.
What is a warning letter to an employee for not making entries?
An organization hires people in the account and finance department to make entries to keep the data updated. Record-keeping is one of the essential tasks every organization hires people for. If entries are not made on time, the record is not updated and as a result, the organization faces lots of problems.
In this situation, when an employee does not make targeted entries, he can be criticized by writing a warning letter. The warning letter will let the employee know that not making targeted entries is a serious issue. He will then pay more attention to his job to get away with the consequences that have been specified in the warning letter.
Common mistakes while writing the warning letter:
Many people don't get any fruitful results by writing the warning letter because they fail to communicate the seriousness of the matter and cannot correct the behavior of the employee. This happens because they make some very common mistakes. A few of them are given below:
Some employers fail to tell the employee that he is given a warning in the warning letter. The employee does not understand how important it is to make entries on daily basis. This way, he continues doing what he has been doing. The employer needs to tell the employee what he is doing. For example, the employee can mention that not making entries is not something that can be taken for granted. Rather, the company takes it as negligence of the employee.
Another common mistake that people generally make is not specifying the consequences of the mistake.  In general, consequences make an employee not repeat his mistake. In case the employee is showing negligence, he should what might happen if he did not stop showing negligence.
Many people don't structure their letters well. So, they end up writing a kind of letter in which there is no coherence between different elements. The person writing the warning letter should know how he can structure the letter to make it easy for the reader to understand what is being said in the letter. For example, you can never write consequences and then a warning statement as it will not be understood by the employee.
Sample warning letter:
Name of the employee
Address of the address of the employee
Subject: Warning for not making entries
Dear Mr. Johansson,
This letter is to serve as an official warning to you for failing to make entries. This is severe negligence at your side which will never be acceptable at the workplace anymore. It is against the policy of the company that an employee does not make entries due to negligence.
The policies and guidelines of the company have been designed to ensure that all the employees work to fulfill their commitments and achieve their targets. Therefore, every employee in the company needs to show adherence to those policies.
Since it has been found that you are violating the policies of the company, we have, therefore, decided to put you on warning for one month. We will monitor you for one month and
Failing to make entries in the future also will ensure strict actions such as:
Suspension from the job for 6 months
Termination from job
We look forward to your positive response because we believe that you are a very valuable part of our organization.
If you have any query in your mind regarding this letter, feel free to contact us. Please sign a copy of this letter to acknowledge this letter.
Regards,
Name of the sender
Signatures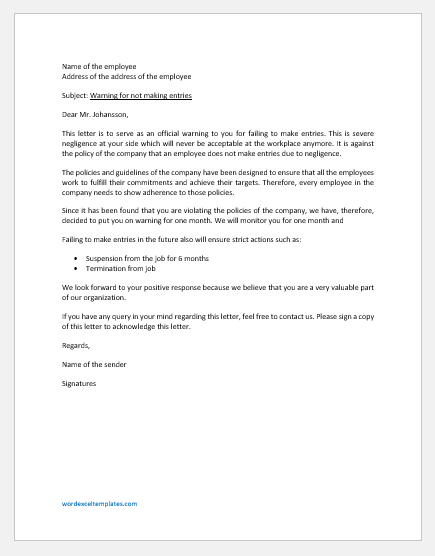 Size: 19 KB Word .doc File 2003 & later
Download
---