Every organization has a number of policies that it devises to handle people working in that organization. Another purpose of these policies is to maintain discipline in the organization. Despite all the rules and regulations, we often see people breaching the rules. When this happens, it is the responsibility of the company to reach out to those people and do anything that can make them correct their behavior.
An employer usually has lots of expectations from his employees. These expectations are defined explicitly. However, some employees forget them or ignore them. Through a warning letter, the employer reiterates his expectations and tells the employee that he is accountable for his wrongdoings.
Why it is important to write a warning letter for breaching the policy of the company?
Being an employer or supervisor, you should know that writing a warning letter to employees is imperative in some situations. This letter reminds people as to what is being expected from them. There are lots of things that can never be tolerated in any organization. Breach of the rules and policies of the company is one of those things. People who breach make others feel inconvenient and also make the workplace a hostile place to work in.
For example, it is important for every employee in the company to not bring their pets along at the workplace. If someone does that, he will create problems for others. All such wayward people should be taken to task by writing the warning letter.
Things to consider while writing a warning letter:
Although you want to criticize your employer for the infraction, you are still required to be cautious as to what kind of words you choose to write in the warning letter. Below are some considerations that you must give to your letter:
Your letter should not be too late. So, write it as soon as the incident occurs. When you see the breach, immediately investigate to know about the guilty person and then write the warning letter.
Your letter of warning should be objective and based on facts. You cannot write a warning letter without having proper evidence and facts. For this purpose, you must have conducted the inquiry to get factual information. You must state those collected facts in the letter.
It is important to reinforce in the letter that the company will not accept the breach. Make sure that before giving a warning, you explain the firmness of the company in the matter of infraction. This will let the employee understand the seriousness of the matter and he will read the letter with more focus and seriousness.
Don't use rude or harsh language just explain your decision.  
Sample warning letter:
Date:
Name of the employee
Address of the address of the employee
Subject: Warning for an infraction
Dear Mr. Johansson,
It has been brought to my notice that you have been seen using the vehicle of the company without the permission of the relevant authorities. The vehicle was given to you for use till 10th April 20XX. I have got a report according to which you have used the vehicle on 15th April also when you were not allowed to use it.
It is quite evident that you are aware of the policy of the company regarding the use of Vehicles. When you were hired, it was explained to you clearly that the use of company-owned vehicles is not allowed unless you get formal permission.
You are requested to visit our office and meet me in person to explain your actions. Please consider this letter as a warning letter from the company. This letter will be placed in your file and it will remain there for 6 months at least.
If you repeat this act, we will have to take strict disciplinary actions against you.
I am sure that you will not take this letter lightly and will try not to repeat this kind of infraction. The company will not put up with you if you are ever seen violating the rules and regulations of the company.
Regards,
Name of the sender
Signatures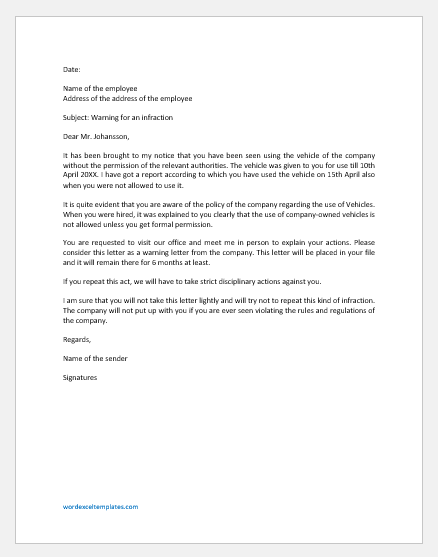 Size: 21 KB Word .doc File 2003 & later
Download
---