Unprofessional behavior at the workplace is never acceptable. There are different types of unprofessional behaviors that an employer can never be approved of. When something is forbidden in an organization and you still find that thing is happening there, you can take necessary steps to prevent people from getting engaged in what is forbidden.
Whether in professional life or personal life, no one is allowed to use profane words. Such words hurt others and also create an environment of tension and stress. So, it is the responsibility of the employer to discourage those people who use profane words at the workplace.
Warning letter for using profane words:
In an organization, there are different types of people with different mindsets and beliefs working together. It is incumbent upon everyone to take care of the sentiments of each other. The best way to do this is to respect others' beliefs and not discuss them openly.
Some emotional and over-dramatic people like to share their secular views with everyone without even realizing how much they are hurting others. If such people are working in your company also, you should take them to the task.  It is advisable to talk to them politely to not do that again. However, some people don't seem to understand unless they are given a warning.
Why write a warning letter?
Using bad words at the workplace result in making the environment more toxic and less productive. In such an environment, it becomes very difficult for people to work with focus and attention. So, the employer must find the person making the environment toxic and then discourage him by writing a warning letter. This letter will also let everyone in the company know that they will also have to face serious consequences if they also found using profane words in their language ever.
How to write the warning letter upon using bad language:
As an employer, you have to be very careful as to what kind of language is being on the workplace. Ignoring such things becomes the cause of encouraging those who use such words which results in a toxic workplace environment. Some tips to write an effective warning letter are given below:
Reiterate the policy of the company regarding the use of bad words at the workplace. The purpose of doing this to remind the employee about it and to tell him that you have a right to take strict actions against him.
You might have never explicitly defined what your expectations are from your employee. This is the right time for you to mention them.
Warn him in a firm tone and tell him that is the last warning. You should also make sure that you don't get too rude while talking to him.
Despite being firm and giving warning to your employee, you should show positivity at the end of the letter.
Sample letter:
Name of the employee
Address of the address of the employee
Subject: Warning for using secular words
Dear Mr Johansson,
I am writing you this letter as a warning because you have reportedly used some unpleasant and harsh words while being on duty. I have received various complaints against you and your language. You should know that such words can hurt the sentiments of many people which is completely condemnable. In so sensible society, these words are used.
I have been noticing that your performance has been on the wane for the last few months. You are showing very non-professional behavior which will never be acceptable at any cost. I am reiterating here that you are required to change your behavior. If you don't change your attitude towards your work life and continue using bad words at the workplace, the company will have to take strict disciplinary actions against you such as terminating you from the job.
We continue to hope that you will not use such words again and you will also show good performance at the workplace. This warning will be attached to your file and will remain there until you seem to work on your character building.
In case of any query, feel free to contact.
Regards,
Name of the sender
Signatures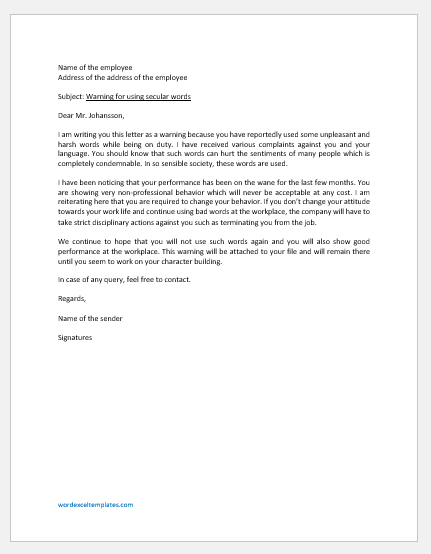 Size: 21 KB Word .doc File 2003 & later
Download
---