When employees start using office equipment for personal purpose, series of problems arise. The workplace should address the policies regarding the use of company's assets so that the loss of productivity, as well as damage to any equipment, can be avoided.
Misuse of the office equipment has become a major problem which is unfortunately not considered as a problem. If you are given the information that someone is destroying the assets of the company or stealing them, you should immediately stop this behavior by warning the employee.
A thorough investigation should be conducted before issuing the warning letter to any employee. If any of the employees are held responsible for misusing the equipment, the letter should be written for him/her.
Before writing the warning letter, you can ask the employee to have a private meeting with you in which you can give him/her a verbal warning.
The unintentional action of the employee can be ignored, however, if it is being done repeatedly, then serious actions are required to be taken. The first step is to give a written warning to the employee.
The warning letter should be started off with the written statement stating that the employee is given a written warning letter. Mention the problem or the action of the employee that has forced you to write a formal warning letter.
The date on which the equipment was damaged or destroyed can be mentioned in the letter for convenience.
You can rewrite the company's policy regarding the use of office equipment. This will be helpful for the employee in case he is not aware of the policies. Here is a sample warning letter needed to be issued when necessary.
Sample Letter:
We really value your work and time that you are spending with us as an employee. Excessive use of office telephone for personal phone calls is not acceptable. Many important business phone calls get missed due to it.
I am, being the manager of the company, issuing a warning letter to you for misusing the office equipment. I hope that the matter will be resolved immediately.
Preview and Details of Template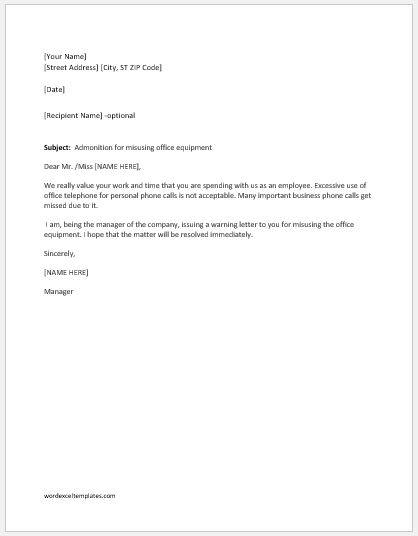 Letter Template
File: Word (.doc) 2007+ and iPad 
Size 36 Kb   | Download
[Personal Use Only]