When we are paid for performing a certain type of duties, it becomes our responsibility to perform those duties according to defined rules and codes. If we don't perform our duties well and show a kind of negligence at work, we will be answerable for it. Sometimes, organizations also terminate those employees who don't work effectively and show irresponsible behavior in the workplace instead.
It should be noted that the termination of the employee is not the only solution to deal with the negligence. Some organizations also warn their employees before deciding to terminate them. The employees are warned because several times, they take the warning seriously correct themselves.
Why write the warning letter for a lack of responsibility?
The warning letter is issued in every organization to those employees who don't work responsibly. When employees don't work efficiently, they don't contribute to the working of an organization at any level. Furthermore, sometimes they also become the reason for an organization to face any kind of inconvenience. To deal with such behavior, it becomes important to write a warning letter.
At the time of appointment of the person, the company makes that person read all the instructions and code of conduct to be shown at the workplace. The employee reads them thoroughly before joining. Once he has shown agreement to those rules and regulations, he cannot refuse to follow them.
Tips to follow while writing the warning letter for irresponsible behavior:
If you have to write the warning letter and you don't know how to, you can follow the following guidelines:
Concisely write the warning. The warning letter is usually a formal letter that addressed very serious issues. Therefore, it is important to maintain the seriousness in the letter while staying concise at the same time.
Although it is a warning letter that is not bringing up anything positive, the tone of the person writing this warning letter should be polite. The tone should not reflect the anger or impolite tone of the person issuing the warning
Proofread the letter before sending it out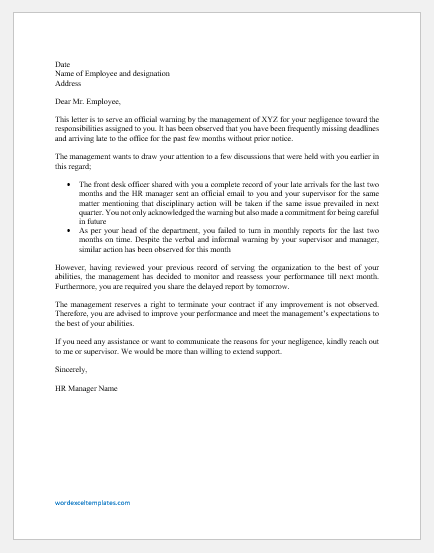 File: Word (.docx) 2007+ and iPad Size 21 Kb |
Download
---