Being humans and being influenced by factors, such as culture, affect the behavior of employees at an organization. One such behavior which is not and should not be tolerated is the irresponsible behavior of an employee at work. Depending on the severity of such behavior, organizations often take immediate action to rectify the situation.
An irresponsible behavior at work entails non-fulfillment of responsibilities, being non-responsive, causing delays, being responsible for creating unsafe conditions for other employees, etc. There could be many examples of irresponsible behaviors an employee may execute.
For instance, if a manager is responsible for training his subordinates for dealing with dangerous equipment and he does not train them well, it may cause accidents as well as result in lawsuits and damaged reputation of the company. Another example could be the urgency of the client's request and non-responsiveness of an employee.
Such behavior on the part of employees is considered unprofessional and is detrimental to the company in terms of company culture and productivity. There are guidelines on acceptable demeanor mentioned in the employee handbook. If an employee does not follow them, the company takes an action against him.
The action could range from a verbal warning to a permanent termination in case of continuation of irresponsible behavior. If no action is executed and the employee is given an unreasonable leverage, it would translate into the irresponsibility on the part of the whole organization as all employees would indulge themselves into irresponsible behavior assuming that they will not be punished. This would prove to be a real damage to the company.
Therefore, dealing appropriately with irresponsible behavior is critical and essential as well. Some of the ways could be:
The manager/supervisor should become an example showing responsible behavior to employees.
Sessions or training regarding company policies for responsible behavior would prove helpful. The repercussions in case of being involved in irresponsible actions should be reinforced as well.
Motivate and provide incentives and rewards for responsibility and performance.
In case of an employee being involved in irresponsible behavior, the following steps may be taken

A supervisor may give a verbal warning.
A supervisor may suggest and help the employee in improving the behavior.
A formal warning letter can be issued and an employee might be placed on layoff for a few days.
A termination of contract might occur.
Usually, the issue gets resolved when the warning is formally communicated through a warning letter for irresponsible behavior and the termination may get avoided. The general format for this letter includes:
Date
Name and details of the employee
Subject
Details of the behavior
Details of the verbal warnings (if any)
Warning and punishment (if any)
Repercussions in case of continuation of irresponsible behavior
Name and details of the employer
The warning letter is kept in the employee record of the company and used for evaluation purposes as well which is why these formal letters are critical to employee and rectification of behavior often results after this letter.
Sample Warning Letter for Irresponsible Behavior
Date
Name
Dear Mr. Watson,
On 28th July 2018, one of the employees in your department, James Clark, experienced a serious accident while handling the factory equipment. Luckily, his arm and hand were saved but he suffered severe bruises. He is a new employee and is still working on a probationary period. Mr. Clark was to receive a training on equipment handling in this period, the arrangement of which was your duty.
However, you failed to exercise due diligence in this regard. You have been working with us for three years and you clearly know that such irresponsible behavior is not acceptable in this company. We have received complaints against you before as well and we have communicated and warned you verbally. This accident is proof that you are not taking those warnings seriously.
You are being placed on a two-day layoff starting 1st August 2018. You must report back on 3rd August 2018 at 8:00 a.m.
This letter will be kept in your file and if this behavior continues, the next step would be termination of your contract with us. We hope to see rectification of your behavior.
Regards,
Emily Jill.
Preview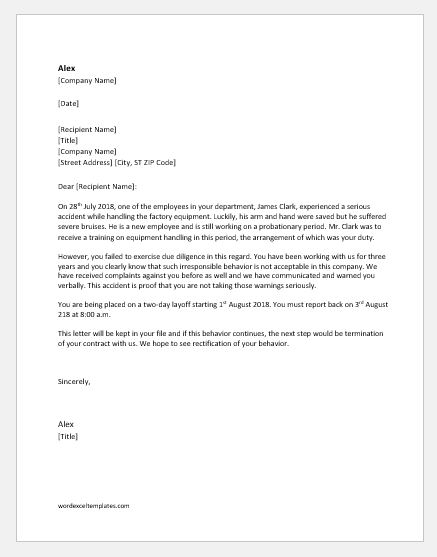 MS Word [.docx] | Download