An organization expects its employees to perform. An employee's productivity affects the overall performance of the company. There are different standards of companies in regard to measurement of performance. It could range from target-meeting to bringing in new clientage.
As far as the sales department is concerned, companies pay special attention to its productivity as sales bring in direct revenues. If a sales manager or sales department is underperforming, the company will suffer. However, initially, the employer tries to avoid punitive actions and tries to resolve the issue through a formal letter addressed to the sales manager.
The underperformance of a sales manager could take various forms. Some examples of poor performance of sales manager are:
A sales manager was unable to meet sales targets.
A sales manager was not able to attract new customers.
A sales manager was unable to retain old customers.
A sales manager was unable to manage the sales team effectively and efficiently.
There was a big discrepancy between the budgeted and actual sales.
Customers/clients have made complaints against the sales manager.
Subordinates have made complaints against sales manager.
If the sales manager has performed poorly, the management issues a formal letter which serves as a warning letter. Generally, the following details are required in such a letter:
Date
Details of sales manager
Details of employer
The reason for the letter and details of underperformance
Expectations from the sales manager
Warning and possible repercussions in case of continual underperformance
Statement showing confidence in the employee
When such a letter is issued, the sales manager, usually, tries to rectify the situation as this letter is kept in the employee record and due to the highlighted poor performance, evaluation of his next performance would be even more critical.
Sample Letter to Sales Manager for Poor Performance
Dear Ms. Jennifer,
I am writing this letter to highlight the poor performance of the sales department as well as you as a sales manager in the year 20XX.
According to the last year's performance, there was a 43% discrepancy between budgeted and actual sales. You are responsible for the whole sales department and you were unable to meet the targets. The productivity of the department has declined by 32% over the past two years. The company has greatly suffered in terms of sales revenue and the profits have declined as well.
You have been our employee for five years and your performance was always exceptional. However, since you have become a manager, yours as well as the department's performance has gone down the acceptable standards. This makes us doubtful about your managerial skills.
If the poor performance would continue, it might result in your demotion or permanent termination. This letter will be kept in your employee file and will be used for your future evaluation.
We hope to see improved performance and better results. Let us know if we can help in any way to help you in improving your performance.
Regards,
James Smith.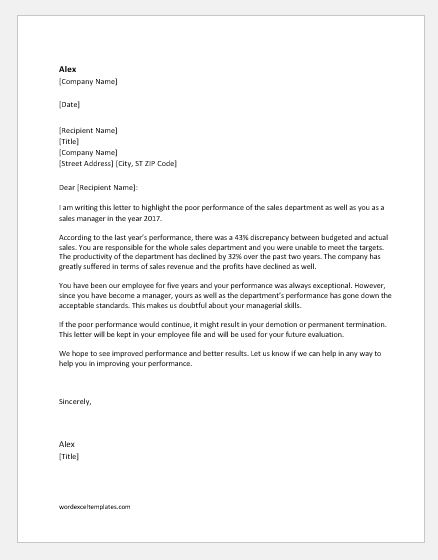 File: Word (.docx) 2007+ and iPad
Size 28 Kb
Download
---
Sample -2
Date: 10th June 20XX
Re: Reprimand for late arrival and poor Performance
Dear [Recipient Name],
I am writing you about your irresponsible attitude that has come to our notice in the past few weeks.
A company works better if its employees are responsible and punctual. It has always been our priority to provide our employees a friendly environment where they can work easily. You have always been a great example for the newcomers as your work has always been outstanding. You have provided our company with excellent services. But for the past few weeks, it has come to my notice that your performance is lacking the spark that you have always had.
Routine traffic jams and other transportation difficulties do cause nominal lateness that is acceptable for the company. However, you have been 1 to 2 hours late almost on 5 occasions and consequently missed some important meetings out of which two later caused the company a great loss.
The information has already been conveyed to you verbally but there is no improvement from your side. Unfortunately, this is unacceptable. You should inform your manager beforehand that you will be late so that we could do some other arrangements. The reason why you were casually informed about these two weeks back was to give you an idea that your carelessness was being noticed by the staff.
Despite various verbal warnings, your continued late arrivals to the office have been observed by the management. This letter is being issued to you as an official written warning for your casual behavior regarding observing office working hours. Furthermore, this behavior is considered misconduct and is deviating from the company policies mentioned in the company manuals. This behavior from your side is also considered nonserious, which is very bad news.
We hope to see an improvement in your behavior. And I really hope this would be the first and the last time I am writing you a written warning. We expect you to show immediate progress. In case of failure, I will be forced to review your contract.
With due respect Mr. [X] we expect some positivity.
Sincerely,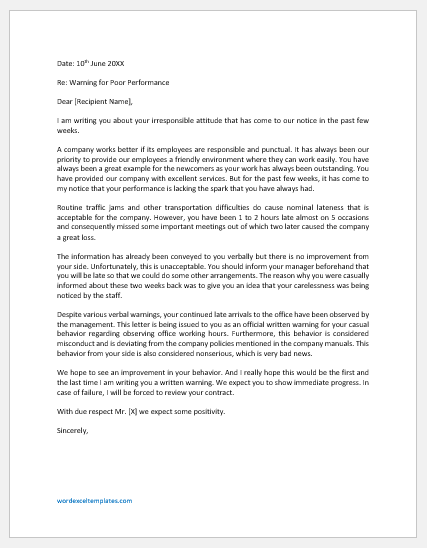 File: Word (.docx) 2007+ and iPad
Size 22 Kb
Download
---