When an employee forwards a fake sick leave and his supervisor checks for its validity and confirmation, then the management is forced to generate a warning letter if leave and medical certificates are fake. This act violates the company's rules thus the employee's manager is left with no option but to send an official warning letter.
Such misconducts are considered unethical and question one's position and repute in the company. If these acts are repetitive then a warning letter can change into high penalties such as suspension or termination.
Sample Letter:
Subject: Warning Letter for fake sick leave
Dear [Receiver's Name],
This letter intends to notify you about your ill-conduct in the preparation of your previous fake sick leave which you submitted on Date [Provide date], thus violating the code of conduct in section # [section number].
Upon examining your sick leave and checking the doctor's prescription by calling the intended hospital and on-duty doctor, we came to know that it was fake. No on-duty staff at the mentioned date examined or checked your health, rather you were never admitted to the hospital.
Our company has set some ground rules which apply to every employee of this organization. These policies and rules if followed can represent a worker's conduct and ethical values. All these policies are already stated in the handbook given to each employee and it clearly states that no sick leave with fake medical subscriptions and justifications would be accepted, rather it will deteriorate the position of the worker and cause him a heavy penalty. Looking at your previous hard-working skills and then looking at these ill conducts, we decided to give you a formal warning letter. 
We hope that this warning letter will serve as a learned lesson for you, so you do not pursue this act again in this company. Because after that, your supervisors will follow a suspension or dismissal in your case. Keep yourself reminded that a warning letter portrays an employee's working and ethical skills which can affect his opportunity for promotion or higher grants, resulting in no compensations attached. Therefore, we expect you to reflect professionalism in this company and refrain from violating the company's rules. From next time onwards, your application and leaves would be checked for proofs and you will be under observation. I will be looking forward to an informal explanation of this conduct and a positive response from your side.
Consider this as a final warning letter and any further violations of the code of conduct will cause a serious penalty. For further information or any query, kindly contact: [Contact details].
Sincerely,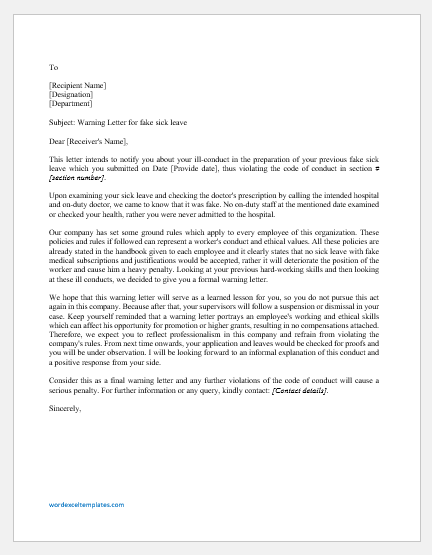 File: Word (.docx) 2007+ and iPad
Size 20 Kb
Download
---