A workplace is dedicated to striving for excellence. Striving for excellence is not only about generating higher revenues but also about excellence in the work environment. A radiant work environment enhances the personalities and skills of all the members.
One vital aspect of an organization's ability to be competitive is maintaining its rules and procedures. As a result, it creates a sound, smooth, and prospective work environment. One hurdle commonly faced is absenteeism. A prompt breakthrough is always needed in this case. The employee's highhandedness toward absenteeism is never acceptable at any rate.
When the absenteeism rate becomes adverse, it needs immediate attention. Despite all this, an organization provides many privileges to employees regarding leaves and holidays.
Absenteeism has a proper procedure to be followed. Absenteeism can be due to valid reasons like the sudden illness of a family member, sudden death, uncertain circumstances, or any natural disaster. In such cases, employees should promptly inform the supervisor.
Sometimes, absenteeism just occurs due to the non-serious attitude of the employee. This leads to a serious setback in the workplace. When an employee is absent, especially on Monday and Friday, it messes with the desired output completion. Friday is the closing day of the whole week's tasks and responsibilities. Likewise, on Monday, various new tasks are to be assigned, etc. Repeated absences lead to the issuance of a warning letter. The warning contains a valid period for correction. Otherwise, it leads to eviction.
Sample Letters
#1
This is a warning letter against your irregular attendance at work. The management has noticed you take off on most Mondays. This impacts your work and hinders the overall workflow at the office.
You are reminded that, according to the company's policy, employees are discouraged to take a leave on Mondays and Fridays unless it is an absolute emergency. Keeping this in mind, you are advised to adhere to the company's attendance policy and show up to work more regularly.
Subsequent absenteeism on Mondays or Fridays may necessitate intervention by the management in accordance with company policies.
In case of further questions regarding the matter, kindly contact the HR team.
#2
We want to address a matter of concern regarding your recent absence on both Monday and Friday of the last week. As outlined in our company's attendance policy, consistent attendance is crucial to maintaining team productivity.
Absenteeism on Mondays and Fridays is against our established rules and policies. We understand that unforeseen circumstances might arise, but regular absenteeism can disrupt workflow and affect project deadlines. Mondays are particularly crucial as they mark the start of the workweek. On the other hand, being the last working day of the week, Fridays are equally important as we wind up office tasks and set new plans for the coming week. Therefore, the presence of employees on these days significantly contributes to team momentum and efficiency.
Moreover, frequent absence on Mondays and Fridays also sends a message of inconsistency and lack of commitment to your colleagues. We value the teamwork and dedication that each team member brings. A reliable work presence can lead to a positive work environment.
We, therefore, urge you to prioritize your attendance on these critical days. If another absence on a Monday or Friday occurs in the future, the management will be compelled to take disciplinary action.
We hope to see a positive change and expect you to put in your best efforts to contribute towards work efficiency.
#3
This is a formal letter to warn all the employees of their off-and-on absences on Fridays and Mondays. This issue has indeed become job-threatening for all of you, and you are not showing any serious concerns about it. Since everyone knows that your Saturdays and Sundays are already off, we cannot afford this long weekend if you stay absent on Fridays and Mondays.
A warning letter has become the need of the hour to restrict you from your rough routines and make you realize the importance of being regular. The company has decided to deduct three days' salary if you stay absent on Fridays and Mondays.
Absenteeism on these two specific days shows your lack of interest in your job and also grades you as an extremely irresponsible person.
The company cannot withstand such an irresponsible attitude, and that is why you are informed that if you do not quit this practice, you will be terminated without issuing further warning notices.
We cannot put the reputation of our company at stake. You are advised to take this warning letter as the final one.
Preview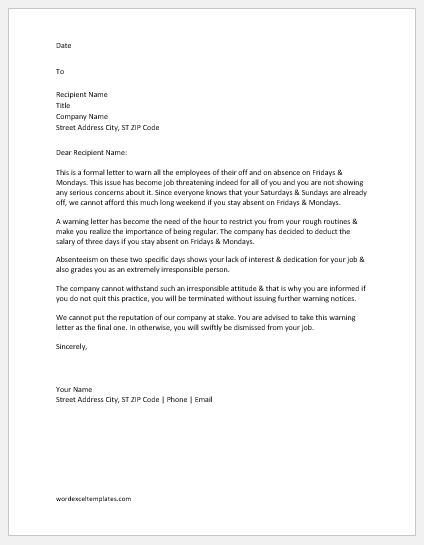 File: Word (.doc) 2003+ and iPad 
Size: 27 KB