Engineers are involved in helping people with different tasks. Their work is important and needed by many. Some are involved in installing machines. This must be done carefully so that no problems are faced later. If a machine is not installed correctly it can cause damage. Therefore, clients are conscious when some engineer does not do this properly.
An unsatisfactory machine installation letter to engineer is a letter that a client sends to an engineer when they are not satisfied with the work that has been done. It is an easy way to inform them of your complaint and can be kept as a sample whenever needed later.
The letter is important as the engineer gets to know that they have not done what was required of them. It shows them that they need to be careful and make consumers satisfied. The letter is a simple way for people to inform the engineer when they have a complaint. In case the professional claims that you did not inform them of this default, the letter can be taken out as proof that you did this.
If you need to create this letter you have to be sure that the engineer will take you seriously. Keeping this in mind the following points can be helpful:
Type it– Do not write the letter by hand as it will not look professional. Rather type it in Microsoft Word if you wish to print it out. You may also email the letter to the engineer. Choose a good and professional font that is readable. the size of the font must be reasonable as well.
Your contact details– Provide your contact details. This will include your name, address, phone number, email address, etc. These will allow the person to be able to contact you when needed.
Date– The date that the letter was written must be provided allowing the engineer to know when you have sent the complaint.
Engineers details– Here you will give their name, address, etc. If you do not know this, check the business card or search for it on the internet.
Address the recipient- Do this professionally with "Dear". If you do not make the letter professional and formal, the engineer will not see you as being serious and may ignore the complaint.
Body of the letter– State clearly when you worked with the professional, so they have an idea of who you are. Inform them in the first paragraph when you started working with them. The second one explains that you are not happy with the installment of the machine.

Tell clearly what the issue is. This may be that it is producing some noise, or is working slowly and not as it should, etc. in the third paragraph hope that they will fix the issue. You can provide a date of when you want this to happen.

You can tell why you need it desperately, for instance, your business may not be working properly due to it. Next, tell them that they can contact you to arrange a proper time for that to occur. Provide your number here.

End by stating that you want to handle the issue quietly without any outside influence. But tell that you are ready to get this if the engineer wants it like this.
End the letter– End with 'Your sincerely" for instance. Provide your name and signature to make it authentic. If there is no signature, then the letter feels like it is not a valid one. Therefore, it is important to include this.
The unsatisfactory machine installation letter to the engineer is a complaint letter and should be written seriously so that you are taken as such.
Sample Letters
1-
Subject: Unsatisfactory machinery installation letter to engineer
Dear Johnson,
I am writing you this letter to express my feelings of dissatisfaction. Since I do farm on a large scale, therefore, upon my request to the company, you were given the task to install a huge potato grading machine at my farmhouse. I hereby regret to say that I am not satisfied with your installation service. From the very first day of its installation, it was producing a heavy noise. I observed in detailed yesterday and found the following errors:
Processing was not being done accurately.
The grading function was also not being carried out effectively by the machine.
Screws of the lower metallic parts were shaking badly and it was a clear indication of the fact that installation has not been done up to the mark.
My satisfaction is lying within the fixation of this mistake. Your act of negligence can cause me a great loss because I have to export the raw material on a daily basis to companies. Therefore, I am sending you a notice in the form of this letter that all installation errors stated above must be rectified within three days. In case no remedial action is taken in this regard, I will be forced to invoke legal action against you and your company on account of breaching the terms and conditions of our contract.
I hope you will understand my situation and comply with my directions. You can call me on [cell number] in case of further query.
Yours sincerely,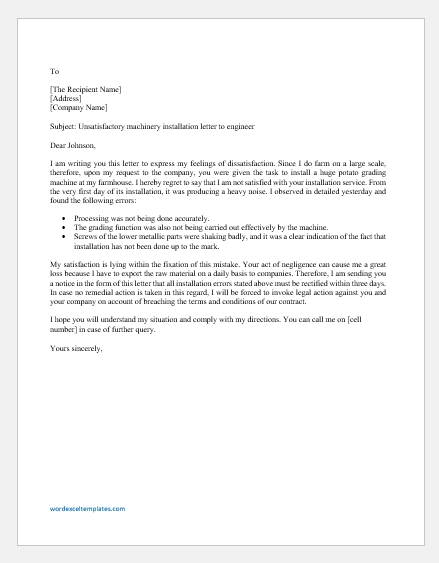 File: Word (.docx) 2007+ and iPad
Size 21 Kb
Download
---
2-
Date
Name of Engineer
Address
Phone
Dear Sir/Madam,
You installed a machine at my place on (date). The machine was involved in (state what the machine was for). I am dissatisfied to say that the installation was not done well due to (tell the reasons for your disappointment, they should be solid ones). I will be satisfied if you can fix this (tell what you wish to get fixes) by (date).
Please contact me directly on (phone number) so that we can figure out the best time to state this.
I hope that the issue can be handled peacefully without any outside involvement, but if you do not wish to work cooperatively in fixing the problem, I will think about carrying out more action and involving the court in this.
Yours sincerely,
(Your name)
(Your signature)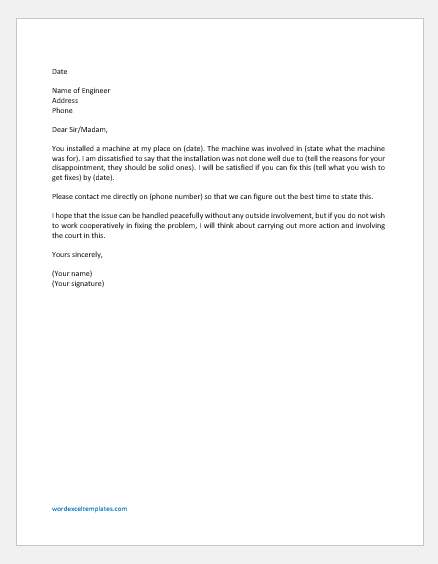 File: Word (.docx) 2007+ and iPad
Size 17 Kb
Download
---