It is the right of every woman to get paid maternity leave and she is ready to become a mother. A working woman who is also steering her family in a new direction deserves appreciation and support. Organizations provide this support in the form of maternity leave.
A maternity leave duration can vary from company to company. However, usually, a maternity leave of 3 months or more is granted. A woman is expected to return to work one week after the delivery. But, if her case is complicated or she doesn't feel like returning to work, she can apply for an extension of the leave.
What does an unpaid maternity leave extended letter?
This letter is written in response to a request made by a woman for a maternity leave extension. When an employer, after thorough investigation comes to know that the request of the woman is genuine and she deserves to be given a leave extension.
When to write a letter informing the employee about extended leave?
The employer can write this letter when:
The employee put forward the request in writing.
Many organizations don't accept the request unless it is sent to the manager in written form. The written request is generally kept in the record. So, if the employee has written a request, you can consider it.
The employee has made the request not more than 21 days ago.
Replying too late to a request is sometimes useless. If you have received the request and it is not too old, you can give it some thought.
The employee's case is genuine, and it has been proven by her medical reports that she cannot return to work for a specific period.
What should be included?
Just like employees, it is very difficult to communicate for employers also. They fear they might not be able to convey their message correctly and end up creating confusion. So, they are required to be wary of how they write this letter to inform the woman that her maternity leave has been extended.
Add the subject:
Sometimes the subject clarifies everything and leaves no confusion. However, the subject should also be written correctly. Since the purpose of the subject is to make the reader attentive by letting her know that the letter has something important to share, it should be written in a short line.
Inform about the extended leave:
Inform the employee that her unpaid maternity leave has been extended. Mention the date when the leave has been extended.
Mention the request received:
Let the employer know that you are writing this letter in response to the request the employee made to you earlier. Tell the employee that you have come to know that she is not feeling well and you are very sad to know that.
Send best wishes:
Wish the employee a quick recovery. Send her warm wishes and let her know that you will be pleased to welcome her back to work.
Conclude the letter:
In the end, mention the name and position of the person the employee can contact if she wants to know or discuss anything related to this situation.
Sample:
Subject: Unpaid maternity leave extended
I hope this letter finds you well. We have received your request for an extension on your unpaid maternity leave. After a thorough investigation, the company has decided to extend your maternity leave.
I am so sad to learn that you and your baby have been going through some health complications after delivery and your doctor has asked you to take a rest.
Your maternity leave has been extended for two weeks and now you are supposed to make a comeback to work on 14th December 20XX. I wish you a quick recovery and good health for you and your baby. You are a strong woman, and the company will love to have you back. If you have any questions, feel free to contact me.
Miss Sara.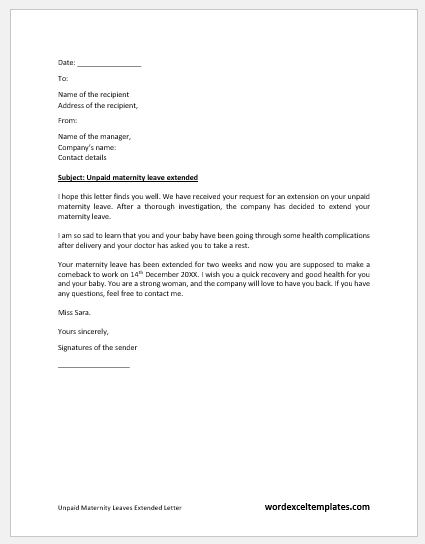 File: Word (.docx) 2007+ and iPad
Size 21 KB