A partnership proposal letter is a formal document written by an individual or an organizational representative to a potential partner or investor highlighting the purpose, scope, and benefits of the partnership under consideration. The partnership could be established between the two parties for resource-sharing or to seek financial support, in exchange for services. Thus, the partnering parties not only share the profit and loss but are also liable for sharing risks, challenges, skills, and expertise. The letter provides a correspondence channel between the party seeking to build the partnership and the potential partner.
The proposal letter introduces the partnership proponent to the prospective partner by providing details of the leveraged outcomes, for both the parties, which could be achieved by the desired partnership. The party making the offer may highlight the past accomplishments and quote relevant facts, paving a way for the potential partner to pursue the partnership further. The letter can be written by:
A business or company owner
An organizational representative
An individual working as an agent or consultant
The partnership serves as a means to expand business and customer base. Different companies, organizations, and agencies seek partnerships for market penetration. A travel agency, one among several others, harnesses the potential of partnership by partnering with different clients such as hotels, resorts, corporates, car rental companies, airlines, recreational spots, online travel booking service providers, tour operators, and many more clients. These agencies not only operate to provide travel information to the clients but are also responsible for making all respective arrangements.
In addition, these agencies play an essential role in marketing and promoting several vacation packages for clients which offer services like accommodation or travel supplies.  Sending out partnership proposal letters to potential clients can be a good way to sustain the operations of a travel agency.
Below are a few tips which can help in writing an effective partnership proposal if you either belong to a travel agency or a travel agent yourself:
Start with the introduction:-  describe the background of the travel agency's inception, the vision of the agency, the clients served, and the overview of the services being offered by the agency
Grab the attention of the reader:- be completely aware of the potential partner you are writing the letter to. Have a clear understanding of the sector the reader works in (hotel, booking agency, logistic vendor, airlines, rental car operator, tour operator, etc.). Highlighting the services and needs of a potential partner and complimenting them with the services of the agency can create a common ground for mutual benefit
Mention the requested details:- If the potential client has already requested for certain specific, be mindful of adding that in the proposal. The request may include the budget, details of destination sites, schedule and timeline for excursions or trips, details of other collaborators, any relevant training or credentials, etc.
Call to Action:- add a clear call to action, what should the reader do next after reading the proposal letter. The proposal letters can be followed up with a comprehensive proposal, a meeting or call to discuss things further
Do not sound profit-centric:- State partnership in terms of holistic growth for both and not just in a monetary context. This could have a negative impact. Mention only when requested
Sample Travel Agency Partnership Proposal Letter
Date
Name of Addressee and designation
Address
Dear Mr./Ms.[X]
We would like to take this opportunity to introduce Anima Travels Finland, ATF. Established in the year 1998, ATF is Finland's leading travel agency.  As a renowned and well-performing agency, we have developed trust and credibility among our clients by being licensed from IATA and IFTA. We work to provide travel supplies and sourcing at the lowest rates by closely working with our travel and lodging partners. We suffice the accommodation needs of our customers through our long-standing relations with hotels and resorts. Our values focus on:
Offering customer care to all of our clients
Ensuring financially protected accommodation and tour packages
Providing all our services at market competitive prices
Hotel X is a well-reputed name in the hotel industry for its robust relationship with travel agencies. The Hotel's spectacular and diverse collection of 22 hotels, lodges, and resorts across Europe are of immense value for the growth of the travel and tour industry.  We would like to offer our services by partnering with Hotel X, for an added benefit to the hotel and travel sector. Our agency can boost your business by following means
Providing low-cost promotion and advertisement for accommodation to our global customer base of over 2.5 million
Increasing reservations during hotel low seasons through our promotional deals and packages
Serving the hotel at lower commission rate as compared to other tour operators
Making it easier for travelers to make a reservation through our online portal
Offering discounts to corporates at our destination sites by opting reservation at our recommended hotel
Partnering with Hotel X would provide us valuable resources and a partner to expand our network and promote national and international tourism in the country. More details on exclusive packages and deals for hotels, resorts, and lodges can be shared on request. We look forward to our collaboration. To discuss the proposal further, please reach out to us at [website] or you may contact us at [X].
Hoping to hear from you soon.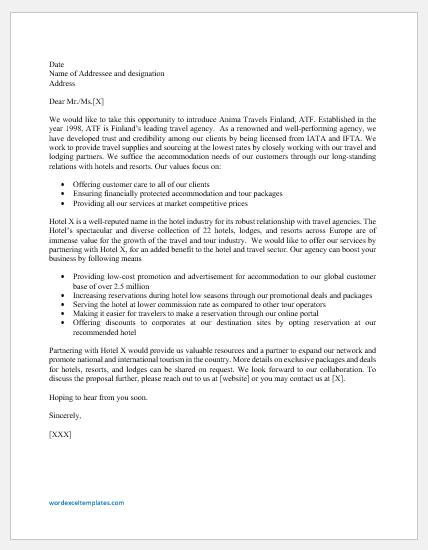 File: Word (.docx) 2007+ and iPad Size 31 Kb |
Download
---