Working people often face lots of problems especially when they have to stay far away from their house. The problems increase proportionally when working people are married and have a family of their own. Keeping every member of a family together and creating harmony among them is the main priority which working people often fail to do because of their absence from home.
What is a transfer request letter due to childcare?
It is a professional letter that a worker writes to the manager to request him to transfer him to another city or branch because he wants to be with his child. Many companies have this policy to transfer workers to the area where they are most needed. In some cases, workers are also transferred due to their reasons. Therefore, employees always can get their request for transfer approved.
What is the purpose of the transfer request letter?
The main purpose of writing this letter is to request in an engaging way that can persuade the employer into accepting it. A person can get transfer approval only if he lets his manager know about the problem he has been going through.
Tips for writing the transfer request letter:
This request letter must be written in such a way that it can make the reader feel that whatever you have stated in the letter is true and you deserve to be approved for a job transfer. Following are some common guidelines for writing this letter:
Know the policy of the company:
Before you make the request, make yourself aware of the policy of the company regarding employee transfer. Some companies don't have any policy to transfer their workers unless they need it to be done. If you are working in such type of company writing the request of transfer will be useless.
Investigate the requirements:
To get the transfer request approved, the employee should be aware of the requirements he is required to meet to be eligible. If the employee has learned that he is eligible, he should discuss all the requirements in the request letter and describe how he meets them.
Give reason for putting the appeal:
You might not be able to get the approval of the request because of not stating the reason. Therefore, let your manager know that you are compelled to make his request because you are a working person, and you need to be with your child who lives in a different location. Make sure that you don't go into depth while explaining things. Keep it short and easy to understand.
To be able to write a letter that can impact the boss, you should be able to write it professionally. A sample has been provided below to help you get started.
Sample transfer request letter due to childcare:
Date:
From:
Name of the employer,
Address of the company,  
Subject: Transfer request letter
Respected (mention the name of the employer),
I am Miss Maria working as an assistant manager in the marketing department of the company. I have been working in the company for more than 5 years. My employment number is 34.
This letter is being written to formally ask you to transfer me to the other branch of the company located in (mention the address of the branch). Due to my job, I and my child are living in two different locations. Due to this, I am unable to take care of my child. I think I should be with my child so that I can take better care of him. I am a single parent, and it is my responsibility to be with my son.
My child is in his teens, and I believe that in this phase of life, a child needs the attention and love of parents. Therefore, I am requesting you to transfer my job from this branch to the other branch. I am hopeful that you will consider my request. I am looking forward to a kind reply from your side.
Regards,
Name of the employee,
Department name
Designation in the company
Signatures
_____________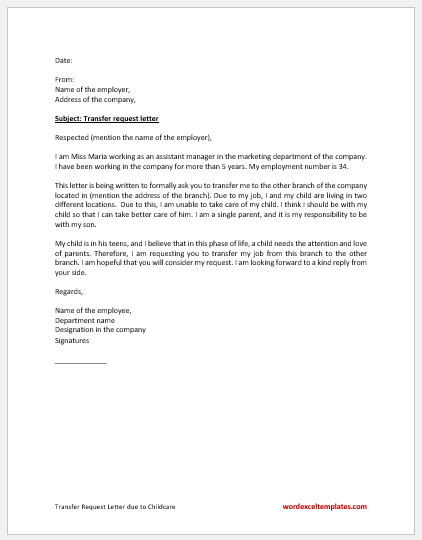 File: Word (.docx) 2007+ and iPad
Size 15 KB