If an employee commits serious conduct that is under gross negligence then the company may decide for a warning or a termination which may contain the reason and legal basis for his ill-conducts and mentioning his previous warnings, if there were any. In this case, it is best to write a gross negligence letter which may serve as a reason for his dismissal.
This letter should further include the details of the meeting that was conducted in order to approve his termination. In addition, the details of his paycheck and his right to appeal may also be discussed.
Sample Letter:
[Sender's name]
[Designation]
[Name of Organization]
[Date]
[Receiver's name]
[Designation]
[Name of Organization]
Subject: Letter for Gross Negligence
Dear [Receiver's Name],
This letter serves as a formal notice to inform you about your termination from this company upon multiple gross negligence acts. You were found guilty of charge because of the negligence that reflected both your work and personality, ultimately resulting in your dismissal, effective from date: [provide date].
Upon the meeting conducted yesterday, which was attended by your supervisors, the HR team, and me [Mention other people], we came to know about your performance in this company. You have constantly been ignoring your assigned work and have fallen behind many tasks, whether intentionally or unintentionally [Mention more conducts which the company has been facing]. Reflecting extreme negligence in work justifies your ill-conduct and the ethical background you belong to, keeping in mind that your gross conduct has led to your bad behavior in this company. Upon a series of warnings already given on your discipline and violations, we concluded that your termination should have proceeded. Our company requires hard working and ethically strong candidates so our work can be reflected in the professional market. Unfortunately, you are not serving as an asset to this company.
Upon this final decision made, we hereby declare that your termination is irreversible. Your final salary and health/security benefits will be delivered at the end of this month, making a total of [Provide salary amount] /-. Meanwhile, you are requested to return any company's belonging that you possess on the discussed date: [Mention Date] near the security counter.
Remember that you have signed the forum which declares that you cannot disclose the company's important and confidential information. This termination gives you a right to appeal and you can provide justifiable witnesses for your confrontation, but your work profile already has proof of your gross negligence and ill-conduct in this company. For the appeal, you may contact the HR Department at [Contact number].
The details of the final inquiry meeting will be shared with you on [Date] upon which further important information will be communicated. You can collect your belongings on that day and complete your unfinished business. Kindly update the company of your contact details in case we must share the information on the upcoming meeting.
Sincerely,
[Your name]
[Your Signature]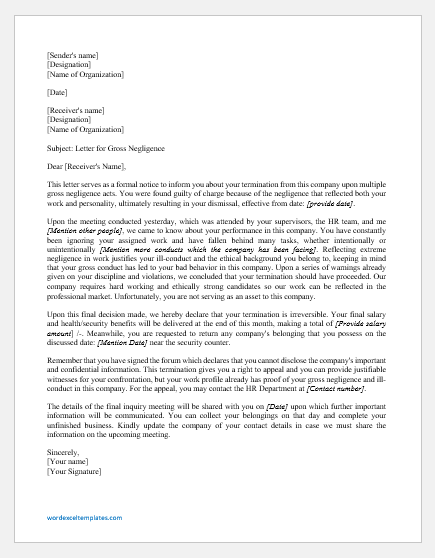 File: Word (.docx) 2007+ and iPad
Size 25 Kb
Download
---