Many organizations are unable to fulfill their hiring needs because sometimes the skill, they are looking for is rare. Sometimes, it is difficult for a company to meet its hiring needs because no applicant qualifies for the post in the company. In this situation, a request for a proposal is submitted. In this request, those companies who can help the organization fulfill its recruitment needs are asked to come forward and offer their services through the recruitment proposal.
What is the hiring proposal?
Just as any other proposal, this proposal is also used to offer your services to someone who needs them. The basic objective behind writing the hiring proposal is to convince the reader into hiring people from the team you have formed.
Things to remember before writing the recruitment proposal:
Things often go wrong and you come to know about it when you are already in the middle of the task and then you find no way to escape. So, if you take some measures, you can easily prevent such annoying things from rearing their heads and stay in peace:
Read the request for proposal carefully and try to figure out what kind of proposal the reader needs. If the format is already described in the request, try to follow the same format.
The person you are writing to or the organization for which you are offering your team of skilled people is from the same domain in which you are working. For example, you cannot offer skilled workers in the medical field to work in the IT domain. If you don't read the proposal carefully, you will end up writing a proposal that will get rejected immediately.
Even if you know that your team of professionals is capable to meet the needs of the targeted company, there is a need to tailor your proposal to the requirements of the reader. You cannot write a generic proposal and expect the reader to find it feasible for him. The reader might have lots of reservations that might lead him to discard your proposal.
How to write an employment proposal?
Writing an attractive proposal is imperative because in today's world, there is so much competition and you cannot survive in this bottleneck competition if you don't have any competency in the area to demonstrate. Even if you are competent, you cannot still get your proposal accepted. Rather, there will be a need to write a proposal that catches the eyes of the reader. For this purpose, follow the instructions given below:
Describe your company or team:
This is the first and foremost part of the proposal that the reader gets to read as and when he gets his hands on the proposal you have sent. The reader wants to know about you and your services. Start with outlining a description of your company briefly.
Here you will first describe that you long your hiring company has been working to provide people with the best employees. It is better to give some statistics to show your success rate. Talk about the available resources you have and how you utilize them to get the best possible results. Also, mention the areas in which you provide your hiring services.
Give reasons to hire you:
A competent person or organization always provides plenty of reasons to its potential clients to hire him. Organizations look for reasons when it comes to choosing someone for recruitment so that they don't regret making a wrong decision. Considering this, you should make a separate section in your proposal in which you will give reasons to a prospective client. Again, here you will talk about the expertise of your team.
Describe services being offered:
Generally, the client wants to know the services that you provide and sometimes, it becomes a deciding factor. So, enlist all the services you offer one by one and give a brief description of each of them.
Tell the cost of hiring you:
Clients usually have a specified budget and therefore, they read this section carefully. Here you are required to describe the charges of each service you offer. If you have multiple packages, describe them one by one.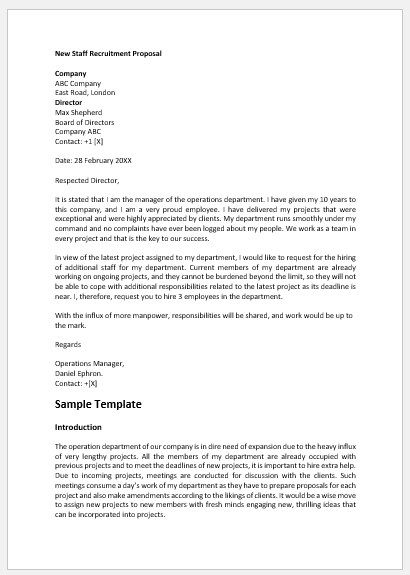 File: Word (.docx) 2007+ and iPad
Size 26 Kb
Download
---