A response letter to a negative review of a product on Facebook is a letter, that is written by a brand name or a Facebook page, and is addressed to the individual, who has posted a negative review of the company's product on Facebook. It is called a response letter, as it is written and sent as a response to the negative review. In this letter, the organization either defends itself or apologizes for the customer's bad experience. Depending on the scenario, through this letter, it may try to compensate the customer as well.
As social media has gained huge power in recent times, companies try not to get back mouthed by unhappy customers, as this will impact the current as well as the potential customers. Organizations may adopt different methods to deal with negative reviews, such as:
Ignore the negative review,
Delete the negative review,
Provide explanation,
Apologize to the customer, and ask for the review removal,
Offer refund,
Offer exchange,
Compensate the customer, etc.
If the organization decides to opt for a professional way of responding back to the customer's negative feedback, one of the commonly used ways is to write a response letter to a negative review of a product on Facebook. The content of this letter is dependent on the review as well as the company's policies. However, the general details included in such letters are:
Date.
Details of the customer.
Details of the organization.
Reference of the customer's negative review.
Explanation, justification, or compensation.
Request for deletion of the review.
Apologize.
Show cooperation.
Any free gifts.
After receiving this letter, and some sort of compensation, the customer may get satisfied, and post a positive review on Facebook, while removing the negative one.
Sample Letter
Date
Dear Ms. Emily,
This letter is being written to you in response to your negative review on Facebook, that you posted on 1st July 20XX, on our official page about the quality of our clothing line.
We often warn our customers to be careful about the fake pages that use our name but sell low-quality products. We often market our official page and website, so that our customers would not get confused. You made your purchase from one of such fake pages on 15th June 20XX and received a very low-quality product. You got unhappy with the dress, and you posted on our official page, that you are dissatisfied, although it was not even our delivery. When we saw your posted pictures, we understood that you have been deceived by one of the fraudulent pages that are using our name.
We are a well-known brand, and we never compromise on quality. We are highly sorry that your money got wasted. We recommend that you go to their page and ask for a refund or an exchange. Also, kindly, report the page, and let us know the name so that we can report it as well, as there are numerous fake pages that are using our name.
As a small gesture for choosing our brand name for your purchase, we are sending a small gift with this letter. Kindly, remove your negative review from our Facebook page. If you plan to go against that fake page legally, we are ready to provide any help that you may need from us.
Thank you.
Regards,
Sarah Stuart.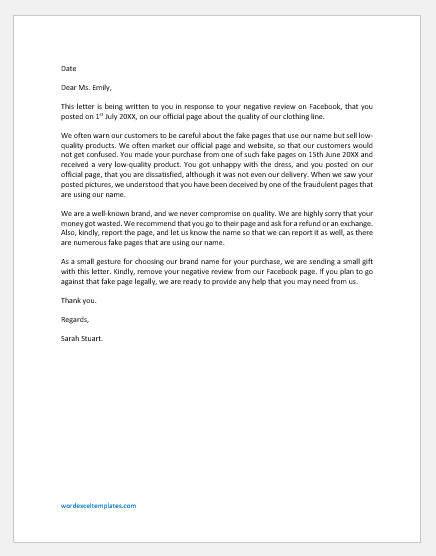 File: Word (.docx) 2007+ and iPad
Size 21 Kb
Download
---