In our day-to-day life, we often hurt others or annoy them. This is completely normal in our personal life. However, when this happens in the professional world, we often have to pay the price for it. Therefore, the use of an apology letter is the best way to handle things in professional life.
People often ignore the situation in which it was necessary for them to say sorry. However, in professional life, it is quite difficult especially if it is your boss on the other side. So, whenever there is any kind of inconvenience from your side, you should always send out an apology whether in the form of written or letter or verbally.
What is an apology letter for misunderstanding?
People working together often face the situation in which they are unable to understand each other based on the facts they have in front of them. Sometimes, this misunderstanding leads to a useless and time-wasting argument. Employees also face such type of situation oftentimes. When this happens to you and you fear that this might hurt your boss or annoy him, you should write an apology letter for the misunderstanding.
Importance of writing the apology because of misunderstanding:
Not being able to understand a situation is not anybody's fault. However, some people don't understand others because of their rigid nature. If you have also gone through the same situation and you have realized that it was your mistake that you did not understand the situation and things, then you should write an apology letter. If you don't write this letter, you will come off as a person who is so rigid and wants to be appreciated and acknowledged even if he is wrong. This kind of attitude can put a shame on your professional image. So, you should write an apology as soon as you realize your mistake.
How to write an apology letter to your boss after a misunderstanding?
Apology at the start of the letter:
This is a formal letter that you write to your boss. So, you don't need to add additional or extra details to the letter. Start your letter with the statement that you are apologetic for the misunderstanding that you had and the inconvenience your boss had to go through because of it. While writing the apologetic statement, you should also specify the date on which the incident actually took place.
Give reason:
Usually, it is said that the apology letter does not need a reason or any justification to make grounds for your mistake. Likewise, you don't need to give reasons as to what made you misunderstand your boss. However, you can tell what you realized later about that situation and what made you think that it was a misunderstanding on your side. While giving a reason, make sure that you have a reason to support your realization. However, it should not be felt after reading the letter that you are trying to prove that causing the inconvenience to your boss was not your fault.
Tell how you are going to compensate:
Sometimes, misunderstanding does not only annoy someone but also creates many other problems. For example, you might be someone who has stopped working on a project because of some misunderstanding and you have become the cause of delay in the project completion. If this is the case, you should tell your boss that you are ready to start working on that project immediately and your preference will be working on that project so that it can be finished as soon as possible.
Show gratitude towards your boss:
An employer who is already annoyed by your behavior will get even more annoyed with the apology letter because sometimes, the apology does not compensate for the loss the employer has gone through because of you.
One of the best ways to please your boss is to write an apology letter by apologizing and then thanking the employer to give him an opportunity to work with you and accepting your behavior at that part of the time.
Affix your signatures:
Just to prove that you are a legitimate person writing the apology letter, add your signatures at the end of the letter.
Sample Letter
Eric Dane
Manager at ABC Company
Dated: 28th February 20XX
Subject: Apology for misunderstanding
Respected Sir,
I am writing this letter to apologize for my confusing behavior in yesterday's meeting. I understand it caused a lot of misunderstanding between us but kindly know that I never intended to belittle you in any way possible. I was working on a project [X] which was being discussed during the meeting, but I had to leave it for a business trip to Germany. I thought the project was delayed but to my surprise, it has progressed very well. I was not aware of the ongoing status of the project which became the reason behind our misunderstanding at the meeting room.
I humbly apologize as it was my responsibility to follow up on the project from my team and then discuss it at the meeting. I regret to jump to various conclusions and question your design which is nothing but wonderful related to the project's status.
To compensate for my odd behavior, I have decided to spend an extra hour on the project to catch up on its progress. I sincerely hope that yesterday's misunderstanding will not affect our professional relationship.
Regards,
Patrick Dempsey
Assistant Manager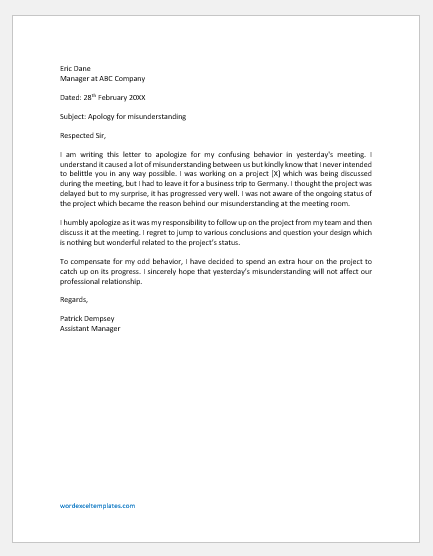 File: Word (.docx) 2007+ and iPad
Size 27 Kb
Download
---