The future is unpredictable. Prudent people plan everything around it which enables them to change the gears and take necessary steps whenever it is needed.
Every business conduct sales forecasts. However, conducting the sales forecast is extremely important for a small business than a large enterprise. A small business will be able to access all the sales opportunities available to it.
What is a small company sales forecast?
A sales forecast is a process used by every business to project future sales. It is very important for a small business to forecast the sales so that it can know about the potential sales of the business in the future. This makes it easier for the business to determine if it needs to change its strategies to boost the sales or the current strategy is working out for it.
It should be kept in mind that a business sales forecast should not be tedious or daunting for a person that he starts to avoid conducting the forecast. Rather, it should be simple and easy so that every business makes use of this process to determine the sales in the future.
Small company sales forecast tracker:
This sales forecast tracker takes only 5 minutes in conducting the forecast. Therefore, people who want to save time can use this tool easily. The sales forecast tracker is a simple but very powerful tool that works smoothly regardless of the size of the business.
If you are working as a sales manager in the company and you want to know how much revenue the business is likely to generate in the future, you can use this tracker. We can see many businesses get success in a short span of time. It seems that they have a superpower that lets them know about everything they are going to face in the future. These businesses always tend to prepare themselves accordingly.
What are the benefits of using the sales forecast tracker?
When a businessman with a small business wants to know how his business will look like in years to come, he can use this tracker. The business can easily know about the revenue that it will be generating in the coming 5 to 6 months.
A business can confidently spend on its advertising and also on other areas if it comes to know that it will have enough revenue generated in six months from now. The business can also hold back itself from spending extra or too much if the forecast does not give good indications. In this way, a company can save itself from unforeseen situations.
The business is always capable of fight off with all the potential problems related to sales, revenue, leads, and whatnot when the tracker is used appropriately.
A forecast tracker is capable enough to warn the company about all the problems. The company can prepare itself and find the solution to all these potential problems before they rear their ugly head.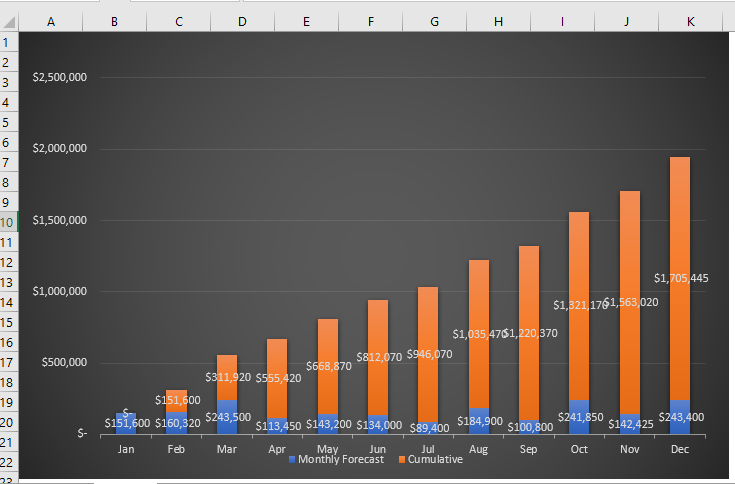 File: Excel (.xlsx) 2007+ and iPad Size 28 Kb |
Download
---