A bank account becomes inactive if it has not been used for any transaction for more than one year. This transaction can be in the form of a withdrawal or deposit of money. Some examples of transactions are check payments, internet banking, phone banking, use of ATM cards, fixed deposits, etc. For these transactions to be valid, they have to be initiated by the customer himself. The transactions will not be considered active if they are initiated by the bank. Bank transactions may include automated transactions such as automatic penalty deductions, bank service charges, or automatic interest payments. A transaction would also be considered valid if it was initiated by a third party.
Reasons for Account Deactivation
Before a bank account is deactivated, the bank sends a notice, at least three months prior, to inform the clients.
An account will be in 'dormant status' if it has been inactive for more than 24 months.
If a person changes his/her address and does not inform the bank, in this case, the letters and notices sent to that person by the bank might be returned, and the bank will place that account under the "pending" status. This step is purely for security and protective reasons.
Another reason for account deactivation is that sometimes customers forget about their bank account and simply do not use it regularly.
Account Reactivation Procedure
If a person's bank account has been deactivated, it is quite simple to reactivate it. The bank runs some checks on the client's account and client identification. There might be some restrictions, but they vary from bank to bank. Generally, the following steps are taken:
Submit a letter for reactivation: A letter or an application needs to be submitted to the bank authorities, such as the bank manager, to reactivate an account.
Submit the required documents, such as the 'Know Your Customer' documents, which include
Photographs
Proof of Identity
Proof of Address
Old checkbook
Deposit in the account. Any small amount of money needs to be made to activate the account.
Sample Bank Account Reactivation Letter
To:

The Branch Manager,
ABC Bank, D-branch
Chicago, Illinois

From:
Michael Johns
Bank Account Number: 1111-2222-3333-4444
Main Boulevard,
House 34, Chicago, Illinois
111-22332333
March 3, 20XX

Dear Sir/Madam,

I am Michael Johns, and I opened an account at your bank in 20XX. My bank account number is 1111-2222-3333-4444.
You are requested to kindly reactivate my account, 1111-2222-3333-4444. I have not been using this account for the past year, and yesterday I tried to make a transaction, but unfortunately, I was not able to make it.

I have attached the required documents and my old checkbook along with this letter.

Let me know if you need any further support for the renewal of my ATM cards as well. I would highly appreciate it if you could give me a new user ID for accessing Internet banking.

I look forward to your kind assistance on this matter.

Regards

Michael Johns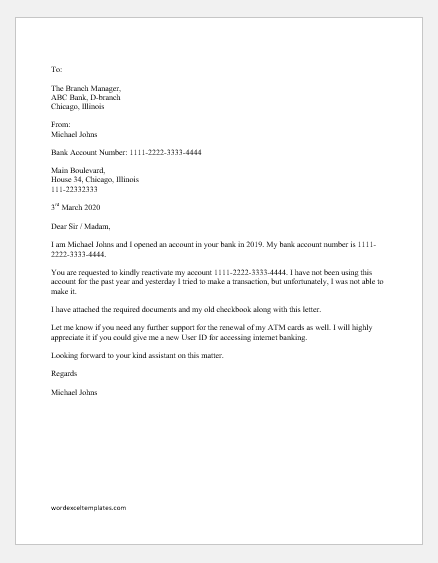 File: Word (.docx) 2007+ and iPad Size 28 Kb |
Download
---