#1
I have a gift especially for you! This Christmas, there is someone who keeps you in their mind, thinking about you constantly. May this Christmas bring you lots of joy, happiness and an endless amount of abundance! I hope you find comfort in the thought that I, too, have something wonderful for you. I hope you eagerly await the rest of my presents, the same way someone surely does yours! Cheers and until next time. Merry Christmas!
#2
The idea of a Secret Santa is surely a wonderful one! One can express their gratitude and happiness to its full extent while remaining anonymous. As a thank you for your continued support and incredibly hard work with the students, I leave this present to you and shall continue to do so throughout the week to express my heartfelt thanks and good wishes. It is not anything elaborate or fancy as I know you to be of a simple mind that is why I did not indulge in any extravagance. I hope you enjoy, my friend, and best of wishes to you. I will miss you and look forward to our reunion after Christmas break.
#3
Dear teacher, here is a surprise for you! It is my great honor to present you with this gift. I would just like to take this chance to express my gratitude and say thank you for your cooperation and understanding, as well as always being so kind and thoughtful towards your students. Thanks to you, our class knows that we have nothing to be scared of so here is a token of gratitude and celebration. I will be leaving you some more presents this week as it is a tradition. Merry Christmas and a very Happy New Year!
#4
Dear teacher, we are here in Secret Santa week which means Christmas is just around the corner and soon we will be leaving for winter break soon. Therefore, I am glad I got this chance to be your Secret Santa. You have been a very supportive teacher of mine, helping me through thick and thin. Here is a small gift for my appreciation which I hope with all my heart you will like. Do expect more presents for the rest of the week with a smile. Merry Christmas and a Happy New Year!
#5
Dear teacher. This year, I am your Secret Santa and as per tradition, I have left you a modest present that I thoroughly hope you will enjoy. It is the traditional garb of my country and extremely comfortable. As you have often expressed your desire to learn more about my culture, for which I am very thankful, I thought it was only fitting that I gift you something that not only reflected my culture but could also prove to be useful in the long run. You always impart knowledge to us so I wanted to impart some to you too. It was my utmost pleasure to have participated in the Secret Santa event and I hope you look forward to the further presents I have for you. Wish you a lovely Christmas.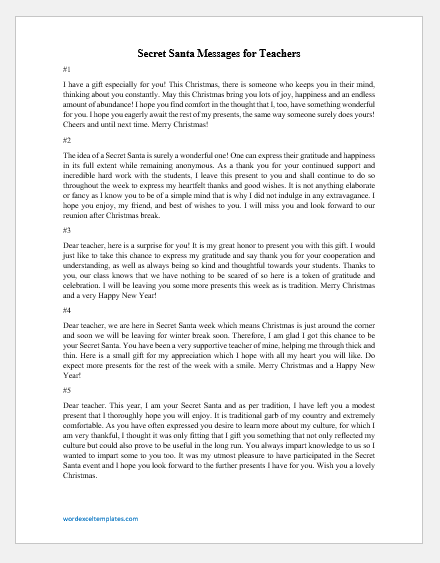 File: Word (.docx) 2007+ and iPad Size 27 Kb |
Download
---