Acknowledgment letters are documents that confirm receiving a good, shipment, document, email, etc. Acknowledgment letters are like acknowledgment receipts, both are declarations of receiving something. However, an acknowledge letter, though concise, is a little longer, having more information, than a receipt. For instance, in a receipt, along with the details of the receiving party and signature, a declaration of receiving is made, but in an acknowledgment letter, the person or company to whom the letter is being addressed, the details of what has been received, the time required for examining, etc. are mentioned as well.
When an organization receives something, like a document or shipped goods, it should formally inform the sender/supplier that things have been received to keep effective communication and makes the process smooth. Sometimes, this notification through an acknowledgment letter is even mandatory.
Acknowledgment letters can be written and sent in various scenarios, such as receiving:
Raw materials.
Finished goods or products.
Shipment.
Ordered parts, components, machinery.
Completion of services, such as renovation, paint, etc.
The document, resume, email, etc.
The acknowledgment letters include details depending on what has been received and how big the transaction was. The general details contained in these letters are:
Date.
Details of the person or organization preparing the letter.
Details of the addressee.
Receiving item.
Provide dates for further correspondence, if required.
Signature.
These letters are only letters of confirmation of receiving. This means that when an organization receives a shipment, for instance, it would immediately inform the supplier about receiving. However, it does not indicate that the shipment has no issues. The organization may require some time to examine it and therefore, mentions the date and time required for examining. The organization needs to provide dates for further correspondence, such as the date of informing if any issues need to be resolved, the date of confirming that the shipment is fine, etc.
As these letters are signed by the person preparing them, they can be used as legal documents and serve as evidence in case any issue arises and legal proceedings cannot be avoided.
Sample Letters
Service Acknowledgement Letter
On behalf of ABC Company, I am honored to acknowledge your 5 years of service tenure for the organization. Your hard work, diligence, and sincerity for the company are appreciated. You have maintained a good performance at your job. The clients have always been satisfied with your timely completion of the assigned tasks. It must be appreciated that you have always delivered the client orders within the given deadlines. This has helped the company enhance its overall image with its existing as well as potential customers.
Moreover, your contribution to the XYX Project has also been for the success of our organization. Your hard work as a key team member has helped us achieve our project goals.
I am pleased to inform you that due to your consistent performance and important achievements, your contract will be renewed for the next 5 years. The management hopes that your service will remain up to the mark.
ABC Enterprises acknowledges the completion of the task assigned to you for running our ad campaign. According to our contract, the company has made the full payment to you. You may find the payment details with our Accounts Officer.
We would like to thank your agency for coming up with our expectations. So far, we have received a positive response from our clients in the form of a 5% increase in our overall sales. We are going to observe further response over the next 2 months before sending you an official report. However, the prospects look good and we might hire your agency for our future ad campaigns as well.
Once again, thank you for your good work.
XYZ Youth Centre thanks you wholeheartedly for your generous donation of $(amount) made on the 12th of November 2019. We have received the amount in our account and look forward to putting it to some good use.
As you already know, our organization works for underprivileged teenagers. We provide a platform for them for practicing and learning various skills. We provide classes for music, dance, painting and also carry out different sports activities. None of our teenaged members are charged any fees. With your valuable contribution, we will be able to purchase new sports equipment for our enthusiastic young athletes.
Once again, thank you for your donation. We are really grateful to you.
Legal letter of acknowledgment
I am writing as a legal representative for XYZ Enterprises. This is an official acknowledgment for your show cause letter dated 1st November 2019. As per the court's orders, our team of representatives will attend the arranged hearing on 15th November.
Kindly notify us in case of any changes to the hearing date.
Acknowledgment Letter for Business
XYZ Jewellery Store thanks you for the advance payment received yesterday, 3rd March. Your order is now under process. You will be notified as soon as your diamond earrings are ready to be picked up from the store. You may also opt for home delivery with extra delivery charges amounting to Rs. 1,000.
We hope you have a satisfying shopping experience with us. We look forward to a long-term business relationship with you.
Letter of acknowledgment for project
The CEO, XYZ Company deeply appreciates you and your team for successfully completing the ABC project within the given deadline. Congratulations on achieving the desired project goals for the company through your sound leadership and hard work.
It is appreciated how you and your team have worked for long hours the entire month in order to fulfill the requirements of the project. The efforts and dedication of all the team members are admired. Your contributions are going to play an important role in the company's overall success.
It is hoped that you will keep working with the same fervor for our future projects. Once again, congratulations for this success.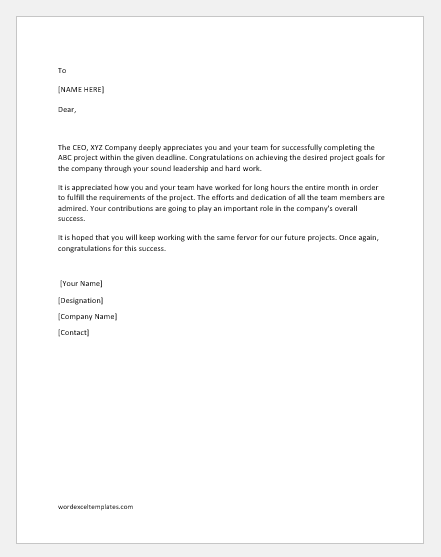 File: Word (.docx) 2007+ and iPad Size 23 Kb |
Download
---