No matter whether it is an educational center or a professional business place, holding an ID card in your hand is so much important. ID card might be a small piece of paper, but at the same time, this piece of hard paper reflects your overall character in front of others.
In short, with the help of the ID cards, a person will be able to recognize any intruders. A few of the standard features that are part of ID cards are a logo, card number, name of a specific person, and picture.
What is the Purpose of ID Card Request Letters?
In case there is any mistake in your ID card, or you want to make any changes in your ID card information, then writing an ID card request letter solves much of your issue. For instance, if your contact number is changed, but your ID card still has your old number, then for changing your personal contact number, you will be writing a request letter for ID card change approval. There is no need to take any stress. You need to mention all your ID cards along with the reason to change it.
Some of the primary benefits of ID card request letters are discussed below:
It will allow a person to create a specific ID card that can, later on, be used in offices or other institutions.
Specific details or information can be filled on to allow another person to identify them quickly.
When it comes to writing an ID card request letter, it would be recommended to attach your previous ID card along with the request letter. This can probably give another person a specific idea that with which office or institution you are already connected to or working for. Keep your language simple and straight forward while writing the letter. Mention your request or the changes which you want to make in clear words.
We hope that with this blog post, you might have acquired enough information to write ID card request letters quickly! Follow the guidelines carefully!
Sample Letters
Request letter to HR for issuing an employee ID card
I have recently joined ABC Company as (job title). I would like to request you to issue my employee ID card.
My official joining date is 10th October 2019. I have enclosed a copy of my joining letter along with my particulars. Kindly let me know if you require any other documents for the requested ID card.
Your immediate action for my request would be appreciated.
Request letter for new ID card
I am Meezo working in the Sales department at XYZ since April 2017. I have just been promoted as the Sales Manager and will be assuming my new responsibilities from the 1st of November. I, therefore, require a new Employee ID card baring the updated information about my new job post.
Kindly let me know if you need any documents or information for the process. I await your response.
I am writing this email to request you for the Employee's Club ID card. My Employee Number is [X]. I have enclosed the required photographs and a copy of my particulars.
I thank you in anticipation.
Request letter for renewal of ID card
This is to request you for the renewal of my Employee ID card. My working contract with the company has just been updated and renewed for the next 3 years. I, therefore, require an updated ID card since my current one expires on the 15th of November.
Please find enclosed a copy of my new contract and other required documents.
Request letter for new student ID card
I am John Doe, a student of the second year at ABC College of Medicine. I have recently taken a transfer from the Maryland campus to Astoni. Accordingly, I require a new student ID card from the Astoni Admin.
I have enclosed my particulars. Kindly issue my new ID card as requested.
Application letter for school ID card
I would like to request the school administration to issue my student ID card. I have enclosed my photographs and the required information about myself.
Kindly let me know when I can collect my card from the admin office. I hope will be ready before the orientation week is over.
I would like to thank you in anticipation.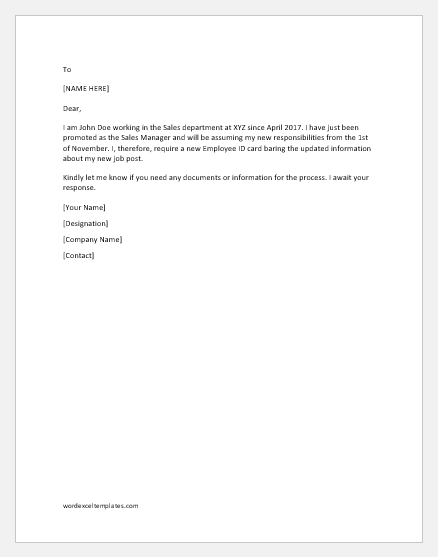 File: Word (.docx) 2007+ and iPad Size 21 Kb |
Download
---