Oftentimes, a student has to leave school because of moving to another city or some other reason. Whenever a student has to take admission in another school at a new place, he will be required to prove that he is no longer enrolled in any other school as it is against the policy of educational institutes to enroll such a student who is already enrolled somewhere. So, the student will be asked to provide the school transfer certificate. To obtain that certificate, a student has to write a request letter to the management of the school to provide him with the certificate.
What is a school transfer certificate request letter?
It is a request letter that a student writes to the school's authorities to request them to issue the school transfer certificate. The basic objective of issuing this certificate is to allow the student to leave the school and take admission to another school. So, when a student writes this letter, he tries to fulfill this purpose.
How important it is to write the request for a certificate?
A student will not be able to take admission in any school unless he has a school transfer certificate. Therefore, writing a request letter to formally ask for the issuance of a transfer certificate is essential. If there are some specific details that the student wants to be mentioned in the certificate, he can ask the school to include them by writing the request letter. A student can also visit the school personally for the certificate.
However, some schools take time in issuing this certificate because they have to conduct a thorough investigation since a certificate issued to the wrong person can destroy the credibility of the school.
When to write a request letter for a school transfer certificate?
You might feel the need to write this letter when:
You have to take admission in another school because your parents have shifted to another city
When you are shifting to another campus of the same school
When you have got your immigration approved and you have to prove that you have left your previous school
Tips for writing the request letter for issuance of transfer certificate for school:
It is important to communicate with the school in an appropriate way so that you can convey your message and get the desired response. Below are some tips for you:
Your letter of request should be written in the language that is followed in the school. Most of the schools follow the English language as their official language. However, you can also write the letter in the national language of your country.
When you state the reason for school transfer, make sure that you are clear about it and you leave no ambiguity in the letter.
Try to keep your tone humble since it is a request letter.
Show that you are thankful to the school, and you have a genuine reason to leave the school
What should be included in the request letter?
It has been expressed earlier that the request for a school transfer certificate is issued in different scenarios. Therefore, the content of the letter may vary from situation to situation. Below are some common details that you might find in almost every letter:
Request statement:
Make a formal request to the school for a grant of certificate. This request should be made as soon as you start the letter. The tone of the request should be watched out so that you don't give a wrong impression.
Reason for applying:
Mention the reason for leaving the school. The reason should be solid and logical. Don't criticize the school even if you are leaving because of a bad environment or any similar reason. 
Attachment of documents:
Attach those documents with the letter that are proof that you have applied for taking admission to another school and now you need a certificate to be eligible. The school might ask you to provide these documents. So, it is better to provide them beforehand.
Thank the reader:
Say thanks to the school for giving you admission and making you learn in a sound and competitive environment.
Sample Letter
To,
The Principal,
(Name of School)
(Address of School)
Date:
Subject: Application for School Transfer Certificate
Respected Sir/Madam,
I am writing this letter to request a school transfer certificate. I have completed my (state class here) from your school (name of school) on (date) with (tell your marks).
I really enjoyed my time at (state school name), but need to transfer schools because of (tell reason here).
I have no dues to clear and therefore kindly request you to issue me a school transfer certificate.
Thanking you in advance.
Yours Sincerely,
(Your Name)
Roll Number: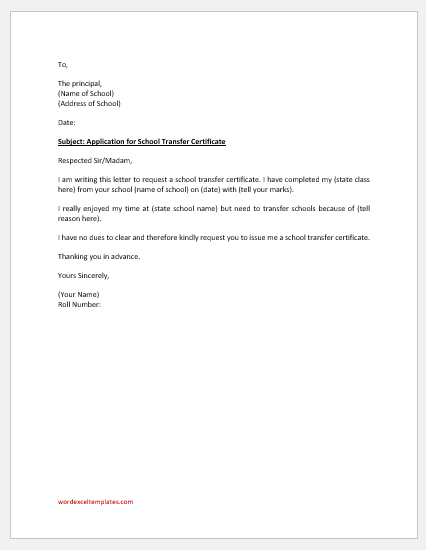 File: Word (.docx) 2007+ and iPad
Size 16 KB