A response letter to a positive review of a product on Facebook is a letter, that is written in response to a positive review, that has been posted on Facebook by a satisfied customer. This letter is written by the organization and is addressed to the happy customer. In this letter, the organization shows its gratitude toward the customer for choosing the organization's product as well as for the positive review.
When a customer gets happy with a product, he may like to tell others that his purchase was worth it. One of the common ways adopted these days for doing so is writing and posting a review on Facebook, one of the most popular social media channels. When organizations receive positive reviews, it increases the organization's sales and the number of customers.
Companies, usually, have the following methods to reply to a positive review:
Comment back on the review. This is quite short and concise. It simply shows gratitude.
A thank you email. The email is, usually, short as well, and can only be sent, if the organization has the customer's email address in its database.
A response letter. It is, usually, little longer than the other two. This is a formal way of saying thank you as well as explaining the company's values, especially in terms of customer service.
When a response letter to a positive review of a product on Facebook is being drafted, it can include varying details. The main purpose is to build a relationship with the customer to make him a loyal and recurring customer. The content, thus, is decided based on that as well as the review, product choice, company's requirements, and values, etc. To save time, the companies, often, prepare a general template, which can be customized as per different customers. Generally, the following details are included in such templates:
Date.
Details of the customer.
Details of the organization.
Reference of the positive review.
Show gratitude for the purchase, positive review, kind words and sparing valuable time.
Company's values and philosophy about customer satisfaction.
Build a relationship for recurring sales.
Thank again.
Salutation and signature.
When a customer receives this letter, his satisfaction would increase even more, as he would know that the company values its customers and acknowledges that the customer has spared his valuable time to write a review. It would increase his loyalty as well as his recommendations of the company's products to others, which would mean higher sales for the organization.
Sample Letter
Date
Dear Mr. John,
I am writing this letter to thank you for the positive review that you posted on our official Facebook page on 1st July 20XX.
We, at ABC Limited, try to provide maximum value to our customers. We believe in providing high-quality products as well as unmatchable customer service. Our philosophy revolves around the fact that a happy customer is a returning customer.
We want to show our gratitude to you for choosing our product. We are extremely happy that you are satisfied with your purchase. We are highly thankful to you for taking your valuable time out for posting about your good experience on our Facebook page. Customer satisfaction is our focus, and by highlighting that aspect in your kind words, you made other customers know about it as well.
Thank you again for choosing us. We hope to serve you again in the future as well.
Regards,
Jennifer Stuart.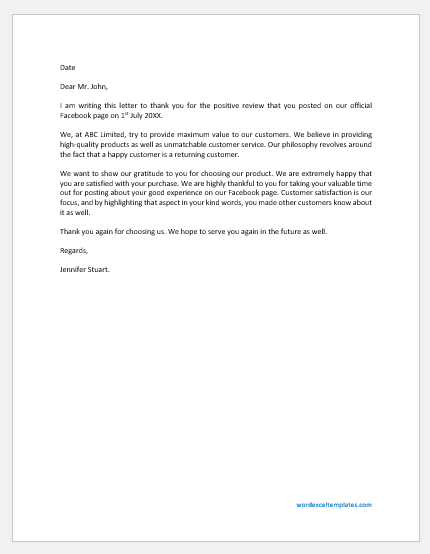 File: Word (.docx) 2007+ and iPad
Size 21 Kb
Download
---