An income verification letter, often also referred to as an employment verification letter, is a letter, that is written by an employer for his employee's income verification. It can be addressed to a general addressee or a specific organization. Usually, the addresses could be a bank, financial institution, government authority, house owner, etc. The main purpose of this letter is to certify, that a person is an employee of the organization, and he has a constant and reliable stream of income, and hence has creditworthiness.
An employee may need income verification, that he is working somewhere and earning a regular income. Income verification can be required in various scenarios, such as:
An employee is applying for a mortgage, and needs to provide evidence to the financial institution, that he will be able to pay the mortgage installments.
An employee is applying for a loan, and the bank needs to verify, if the employee has creditworthiness.
An employee is taking a house on rent, and the landowner wants to know, if the employee has an income channel, through which he will be able to pay the rent on a regular basis.
When an employee needs verification of his income, he needs to request his employer to issue him an income verification letter, which is duly signed and is printed on the company letterhead, so that he can present it to the relevant party or organization, to strengthen his case. The content of the income verification letter may differ, depending on:
The employer's policies.
The employee's requirements.
The addressee's requirements.
However, the general information in such letters include:
Date.
Details of the addressee.
Details of the addressor.
The income or employment verification.
Employment duration.
Current position, contract type, probability of contract extendibility.
Current salary.
When an organization is lending something, it needs to have a guarantee or collateral, to minimize its risk of fraud. It wants to ensure, that it will be able to receive back timely payments. Although this letter does not guarantee anything for the future, yet it provides evidence, that, currently, the employee has continuous earnings, which will, probably, continue in the future as well. Hence, the letter may suffice for the organizations, as proof, that the employee has the ability to pay. If an employee has such paying capacity, it makes the organization believe, that he has good creditworthiness as well.
As the income verification letter is a formal document, prepared by a reliable and responsible employer, it can be used for any reference or legal purpose, and hence is kept in the records. In addition, it is very important to include the correct information in such letters, as inaccurate information, or a fake letter, can lead to severe legal consequences for the guilty employee or employer. Furthermore, the letter is descriptive, as it only provides the required information, and hence needs to be written in a formal and professional tone. 
Sample Income Verification Letter
Date
To Whom It May Concern,
I, hereby, verify that Mr. Adam Smith is employed with our organization, ABC Limited. He has been a part of our organization since 20XX.
Currently, he is serving as a 'Marketing Manager'. He has a roll-over contract, which will be extended after one and a half years when the current contract will end. His one contract term is five years.
His current salary is $[X] per month.
If you need any further information, you can contact us at [X].
Thank you.
Regards,
Steven Wilson.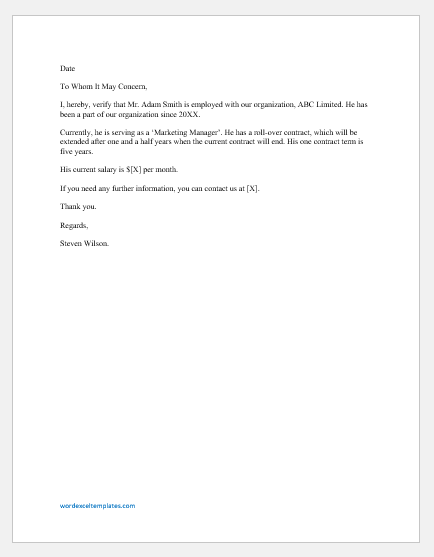 File: Word (.docx) 2007+ and iPad
Size 16 Kb
Download
---