What is a request letter for working at home due to flu?
Flu is not a dangerous disease but since it is highly viral, it is better to stay in isolation. When you are feeling down due to catching the flu, you should not go to work to prevent others from catching it from you. You better stay at home and take a rest. However, if you think your presence in the office is necessary or you need to accomplish something really important, you can request your boss to allow you to work from home. In this letter, you tell your boss that you have flu and you don't want to spread it to others.
Why write this letter?
The way people in the world used to behave has changed drastically after the pandemic has hit the world. These days, everyone seems to be concerned about their health and they are seen taking more care of their health than ever before. There are some symptoms of the Coronavirus that are so common that we get really worried when they appear in us. So, having flu is a big deal as it is also a bigger sign of contracting the Coronavirus.
Working from home these days is also normal especially for those who are showing flu symptoms. Therefore, requesting to work from home is the best decision in this situation and it also shows that you have a professional approach. In addition to it, after you have specified the reason, your boss is likely to accept your request since he might not want others to fall ill.
Tips to consider before writing the request:
Know the nature of your boss:
When making this request, you should try to know the nature of your boss. With this, you can easily predict how he is likely to behave after receiving this request. When you can predict your manager's reaction, it will be easy for you to draft your letter in such a way that it will be accepted easily. How you should write this letter also depends on your impression of your manager.
Know the policy of the company regarding working from home:
Every company has some policies regarding employees who feel under the weather and cannot attend the office. Some have the policy to allow them to stay at home and work from home while in some companies; it is strictly prohibited to not come to work with flu. If you find any flexibility, must write a letter and refer to that policy of the company to remind the boss.
Determine how you will make this happen:
It is a crucial step to be taken before writing this letter. You should write this letter only when you have the potential to work from home. For instance, if your laptop has bitten the dust and you know collaborating with team members will be difficult; don't make any commitment to work at home.
Watch your tone:
A request letter always has a different tone than other professional letters. Sometimes, your boss accepts your request of any kind just because you have used an ideal tone with an appropriate choice of words. So, pay attention to what you write.
Provide evidence:
Your manager might not believe you when you tell him about your illness. So, attach your medical certificate with the letter and let him know about it at the end.
How to write?
Always start this letter by giving your introduction. There are many employees in the company and often your boss cannot remember you immediately. So, mention your name, your position, and other details in the letter.
Tell your boss that you are not feeling well as you have flu and you don't want to expose others to it by visiting the office.
Let him know that you are aware of the importance of the work you have been tasked with and you are concerned about completing it. Then make a formal request to him to allow you to work at home
Specify what you are expecting from him after receiving this request. Thank him at the end for being so cooperative and supportive in all the situations.
Sample Letter
To
(Name of Recipient)
(Position)
(Address)
Dear (Mr. Mrs. Ms. Last Name),
I am writing this letter to request work from home as I am not feeling well. I have the flu and want to stay away from the team in case this is contagious.
Would it be possible that I can start working from home on (date)? I will be available whenever you want me in the office. You can contact me when I am at home (Contact No.). I will be available by (state methods of communication) whilst working from home.
I know the work ethics of this company and hope to uphold them, so I am flexible concerning the days and frequency to work which is best for you.
Thank you for considering my letter.
Sincerely,
(Your Name)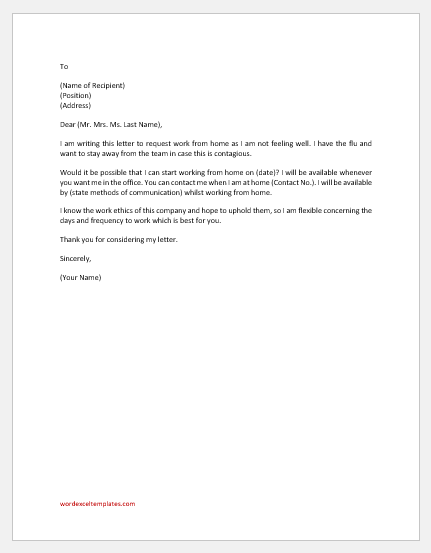 File: Word (.docx) 2007+ and iPad
Size 12 KB