It is that kind of request letter which is written by a tenant to a landlord to reduce the rent of the shop after he has faced an unexpected financial crisis. With the recent spread of the pandemic, particularly the outbreak of coronavirus, most of the tenants were observed helpless owing to the economic crunch resulted after it. So, this letter has been designed for the same purpose so as to convince the shop owner to reduce the rent.
Apart from the pandemic, there are several other reasons which can serve as a stimulant towards writing this kind of letter. For example:
A heavy and unexpected loss in business can force the tenant to write this letter.
Unexpected medical bills as a result of an accident.
Losing one's job can also stimulate the tenant to write this request letter.  
If surrounding property owners are providing the same facilities at reduced prices, it could be one of the major reasons.
In all the above-mentioned cases, a partial decrease in rent can facilitate the tenant and he may get relief by virtue of the landlord. Whatever the case may be, make sure to pinpoint the reason and stick with your purpose. In addition, don't forget to mention in your letter that you are the most responsible person in terms of rent payment and you had not written this letter at all if the problem would have not happened.
Sample Letter -1
19-05-20XX
John Alex
22-H, Hide Park, Michigan
Subject: Request letter to reduce shop rent
Dear Alex,
I want you to consider it a request from me to reduce the rent of the shop. I love doing my business here but somehow, I have been disturbed in terms of finances, and rent reduction is perhaps the only way left to pull me out of the panic and help me run a long way. You know that I am a responsible tenant, always paid my rent on time, maintained good shop conditions, never messed with my surroundings, and most important of all, I have been loyal throughout my stay.
In the recent past, I conducted research in my surrounding area about the rent being paid by other shop keepers. After discussing with neighboring shop keepers and examining the rent rate being paid by them, I concluded that a small reduction is inevitable because they are paying less rent than me for the same facilities as provided by you. In fact, I have got a good idea of what is realistic.
Owing to the situation, I would request you a USD 100 reduction in shop rent which is also in line with the average market rent. It is a fair reduction and it will help me a lot retain my business here which is very important for me.
A reduction in rent would be beneficial for you also. In return for your kindness, I can pay the reduced rental amount of two months in advance. I hope you will entertain my request and give me a chance to say thanks.
Regards,
Anderson.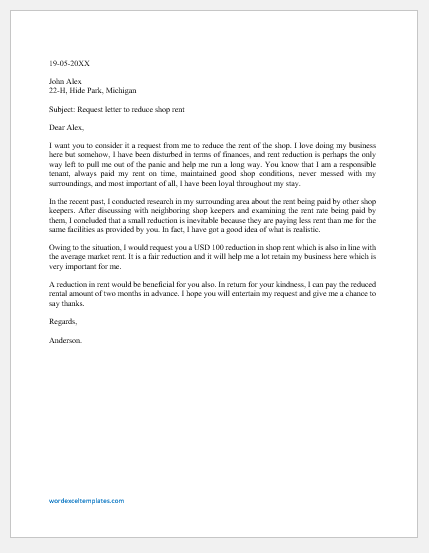 File: Word (.docx) 2007+ and iPad Size 21 Kb |
Download
---
Sample Letter -2
Dear Stewart,
I am writing this letter to ask for a favor in terms of reduction is shop rent. You must be aware of the fact that with the current downturn of the national economy. It has hit hard for small retail business owners like me. I have three school-going children. After the current economic crunch, my income has not been up to the mark. Owing to the financial crisis, I am not able to pay the existing rent.
I have been running my business in your shop for three years and I never asked you for such a favor. I don't really want to leave this place and would like to continue my business here. I request you to entertain my request and reduce the rent.
Regards,
Anderson.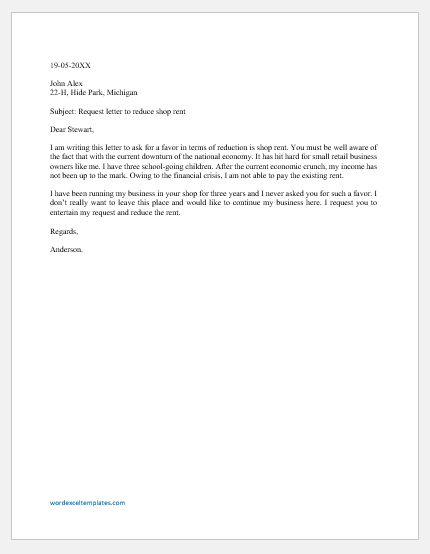 File: Word (.docx) 2007+ and iPad Size 19 Kb |
Download
---