This is the email that is sent by an employee to the HR department or directly to the employer after he has received less salary than the negotiated one at the time of signing the contract. Receiving less salary creates sometimes a lot of problems for employees because they have limited and fixed expenses each month. Therefore, less salary can disturb the whole financial circle of the employee. This particular email format has been designed for the same purpose so as to fix the problem by concerned authorities.
How is it beneficial?
Instead of forwarding an oral request, it is always beneficial to write an email to the concerned department. When an employee sends an email, he will have an electronic receipt as a record which can also be shown when needed. Following employees can get benefit from it:
Existing employees: They get the correct salary regularly but for a particular month, they receive less salary.
Newly appointed employees: Those employees who are appointed recently, negotiated about their salary but on very first month, they receive less salary.
Sample -1
19-05-20XX
Subject: Less salary credited email to HR
Dear Alex,
I am Anderson, working as assistant manager finance in this company. I am writing this letter to inform you that I have received less salary in my account for the current month. My current monthly salary is USD 3500 but I received USD 3000 only which is considerably less than my existing salary. Such kind of issue has never been faced by me since 20XX when I joined this company.
It seems there is something wrong with the accounts department. My salary slip of this month was showing that USD 3500 has been credited to my account whereas it was USD 500 less than the actual amount. I was worried because I never faced such a situation before. I am in a habit of completing all the allocated tasks on time.
I have also informed the accounts department about my problem before I wrote this letter. It seems that they did not take any notice of it and that they have not taken my problem seriously. Therefore, I request you to do something in order to resolve my issue. I shall be very thankful to you.
Regards,
Anderson.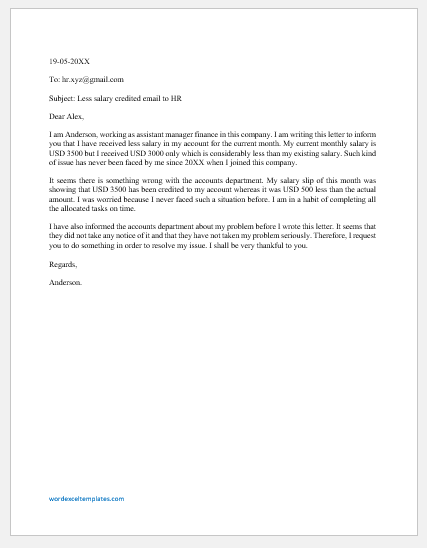 File: Word (.docx) 2007+ and iPad Size 19 Kb |
Download
---
Sample -2
Dear Michelle,
My name is Anderson and I was appointed as assistant manager marketing last month. The moment when I signed the contract, it was negotiated that I will be paid USD 2500 as a salary. I was very happy at that time because the negotiated amount was handsome.
Five days ago, when I received my salary slip, I became worried because instead of 2500, only 1500 USD was credited to my account. This was unfair because everything was mentioned in the contract regarding salary and still I was paid less. I thought that it might have been posted by the accounts department mistakenly. Therefore, I called and requested them to rectify the issue. Instead of doing something, they directed me to make contact with the HR department because they told me that they posted the salary after taking directions from you.
Being an HR director, only you can solve my problem. Please accept my request and direct the accounts department to post the actual amount in my salary accounts.
Thanking in anticipation.
Regards,
Anderson.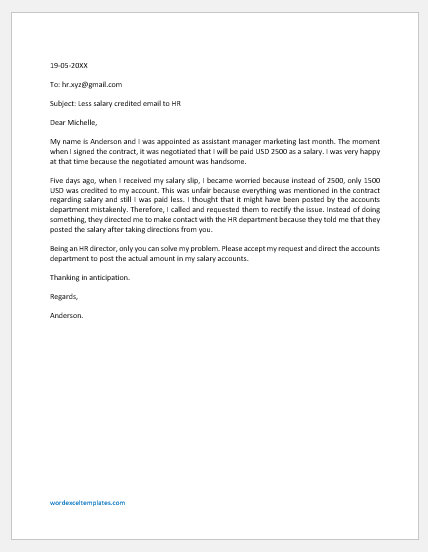 File: Word (.docx) 2007+ and iPad Size 22 Kb |
Download
---