Some students want to work on a research project in the area of their study because they want to explore something that can help them contribute to that area. Avid researchers are always in the need to find something for the betterment of the world. The research project in an institute can be initiated with the approval of the professor who is in charge of approving and supervising these projects. Therefore, when a student wants to do something significant, he or she will have to write a letter of request to the professor. 
When to write the request letter for approval of a project of research?
Some students generally don't know when they can make a formal request. Sometimes, the timing of requesting is not right, and therefore, they fail to get approval. Therefore, they should know when they write an application letter.
Generally, the research project is started by students in their final semester. Then, they are required to convince their supervisor to let them initiate working on that project.
Some students also write this appeal letter because they come to know that the project they are going to work on not only needs manpower but also financial support which is not possible for them to acquire without approval from their professor.
Sometimes, even the initialization of a project is very complex and it compels people to seek assistance from someone senior such as a professor.
Who writes the appeal for exploration project initialization?
In general, students write the request letter to start the project because they cannot do it without the permission of the professor. Some other members of the institutes also seek permission in some rare cases.
Tips for writing the request to convince the professor:
If you are someone who wants to communicate with the teacher and ask for his approval, you can follow the tips given below:
Introduce yourself:
Let your professor know who you are and from which research area you belong. Sometimes, the professor judges your application based on the research potential in the area you have selected. So, mention your area and other details.
Discuss the research project:
Since you want to initiate a project and you need approval, it is inevitable for you to discuss that project. The project should be discussed in such a way that the professor can feel that you are really into contributing. You can also tell what contribution you are intended to make with your research. This will help you convince your supervisor.
Make a formal request:
After you have given enough explanation of the project, it is the right time for you to make a formal request and ask the professor to allow you to start working on the project that has been explained above. While you make the request, make the reader feel that you are an ambitious person who has a lot of energy.
Below is a sample that you can follow:
Sample letter 
Subject: Request for acceptance of research project
Respected Sir,
I am Mr. ABC, a student of computer science (third semester). I have worked with my supervisor in the area of requirement engineering. I have also published two research papers in the same area. Now I want to carry out a research project with other classmates so that I can solve some more problems faced by the software industry.
To carry out the intended research project successfully, there is a need to collaborate with some other people from different states. In addition to it, I need funds also for taking my research project towards success. The approval of a research project from your side will help me a lot in reaching my goals.
I would like to request you to allow me and my team to work on this project that has the potential to bring a difference to the software industry as well as society. Thank you so much for your consideration. I am anxiously waiting for a kind response from your side. 
Sincerely,
Name of the student
Student ID 
Department name:
Signatures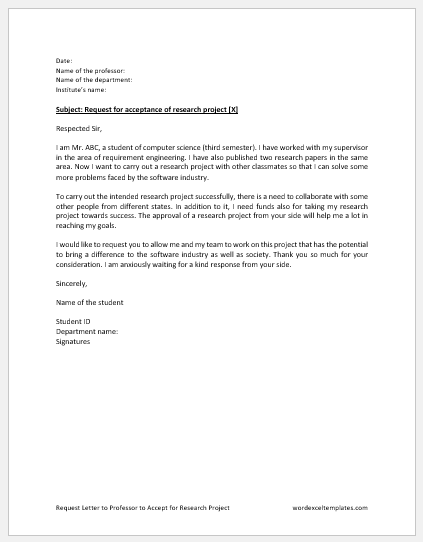 File: Word (.docx) 2007+ and iPad
Size 13 KB