What is the request letter to improve shipment services?
Bad shipment services can cause inconvenience to customers to a great extent. Many courier companies are working these days in every corner of the world. For every courier company, one of the biggest concerns is reducing the transit time. Many other things need to be taken into consideration when it comes to providing good services to people.
That courier company is considered to be best that tends to provide improved and good services to customers. However, sometimes the courier company does not provide good services unawares. In that situation, customers can write a letter or email to the courier company requesting it to pay attention to its services.
Importance of writing the request letter for improvement of shipment services:
It is very detrimental for a shipment company to not being able to provide services to its customers in a better way. Therefore, a shipment company should always reflect upon its performance. However, sometimes the customers have to let the courier company know about it. Customers usually write letters to courier companies asking them to improve their services. When a company receives this letter, it feels worried about it. Those companies that are unable to provide quality services often lose their customers and the business might take a turn to worse. Consequently, the business improves its services and the customers also enjoy quality performance.
How to write the request letter for improvement in services related to shipment?
Things get very complicated especially when you are writing to business. you need to pay attention to lots of things so that you can come off as a person who is concerned about the bad services and wants to see the business improving its services. Here are a few tips that can be followed:
Admire the business:

There is always a proper background of why you are writing this request letter. You might have experienced a lot of inconveniences that have disturbed you. With this, you feel the need to criticize the business for its services that you want to improve. The criticism in this letter is important to some extent. However, you should also admire the business for all the services that it had been providing to its customers.

Mention your expectations:

After admiring the business, you must have set some expectations from it. Talk about those expectations so that a business can realize that what it is supposed to do to meet the expectations of its valued customers.

Talk about services that need improvement:

Although the primary service of the shipment company is shipping the products, there are many other aspects of that primary service. For example, if you experienced the delayed shipment, discuss this in the letter. In this part of the letter, you can explain the whole incident briefly.

Request for improvement in services:

Since you are writing to request an improvement in shipment services, you must write the request in the letter. For emphasizing on the request, you can also add the request at the beginning of the letter.

Mention the consequences:

You need to tell the business that the letter you writing to it is not to be taken with the grain of salt. The business needs to pay attention to every part of the letter so that it can bring improvement to its services. You can tell the courier company that it might lose its loyal customers if it does not improve its services in days to come.
Sample letter:
To: Mr. XYZ
Date: ——————
RE: Request to improve shipment services
Dear (name of courier company),
I am writing this letter about shipment services your company has been providing for many years. I am a regular customer of your company and whenever I am to get shipment services, I prefer your company. In the past few months, I have seen that your company is not working up to the expectations of its customers. Last few times, my shipment was unexpectedly delayed, and this caused me so much inconvenience. I also refused to accept the shipment package once.
I am writing this letter to draw your attention to the services the company has been compromising on. If there is no improvement in these shipment services in future, I will be compelled to take services of some other courier company
I am here again requesting you to please work on your services to improve them. Thank you so much for your time in reading this letter. I hope that you will improve your services in days to come.
Regards,
Your name
Your signatures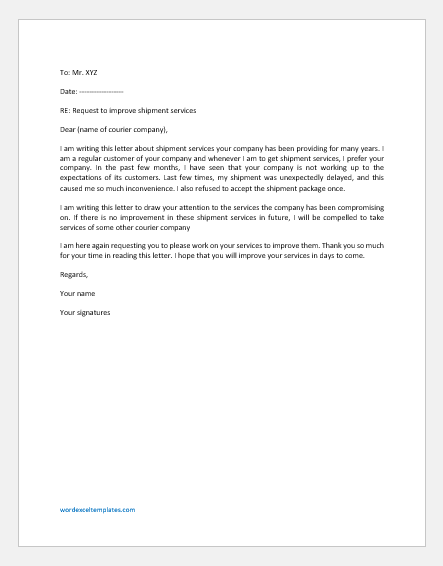 File: Word (.docx) 2007+ and iPad
Size 18 Kb
Download
---