For an employee, sometimes it gets exhausting to working more than his capability. This not only frustrates him but also affects his health. However, sometimes an employee requests for reduction in working hours from his routine work. There can be many reasons for asking for reducing working hours. For example, some people get some additional responsibilities at their home that make it difficult for them to give proper time to their job. In such a scenario, a person can think of writing the request letter to his boss for a reduction in working hours.
Things to remember while writing the request letter
Asking for a reduction in working hours can be very challenging. One should know the nature of the boss and his situation in which he is asking for the reduction. Following points are required to be kept in mind while making this request
You are working regularly
The employer is more likely to grant the approval of a reduction in working hours if the person making this request is accustomed to working regularly. Furthermore, the employee should ask for the reduction when he is already ahead of time and not working for a few hours is not going to impact his job.
The employee should keep this fact in mind that it would be difficult for the boss to reduce his working hours. Considering this, he can make a few suggestions so that the employee can easily think of reducing his working hours. For a point in the case, the employee can suggest the employer allow him to work from home.
Give reasons for making this request
When you are asking your employer to reduce your working hours, you might be expecting him to accept your request. This can be possible if you have a genuine and solid reason to ask for a reduction in the number of working hours. Furthermore, you should also be able to write the request letter in an effective so that it can convince the employer to accept your request.
Sample -1
To,
CEO Star Chemicals,
City Tower, Michigan, USA.
15-04-20XX
Subject: Request letter to reduce working hours
Dear Sir,
I hope you will be fine and enjoying good health right now. I have been waiting to talk to you about an issue but could not do this due to an excessive amount of work. Through this letter, I want to forward my request to you to reduce my working hours. I was appointed as a mason in your factory five years ago. To do away with my poverty, I work at two places as an employee. My first shift here in the factory is about ten hours a day. Immediately after completing my duty, I move to the second working place and there I work for seven more hours. This way I am making both ends meet and fulfilling my family needs. With an excess of work, I am losing my health continuously and rapidly. In this stressed condition, I will no more be able to continue with both jobs.
Moreover, I have a son who had a severe accident a few days ago. Doctors have advised him full bed rest. Since my wife is also ill and not able to take good care of him alone. If you reduce my working hours to seven instead of ten, I shall be able to perform my duties more efficiently and can take good care of my wife and son.
Today's busy world demands time management and mental peace in order to be successful. Once these are done, they give immense pleasure and satisfaction. In the same way, everybody is striving for peace and prosperity as these are thought to be the standards of a happy life. Keeping in view all the above-mentioned facts, I am sure you will consider my request for reducing hours.
I am waiting for your positive response.
Yours Sincerely,
Anderson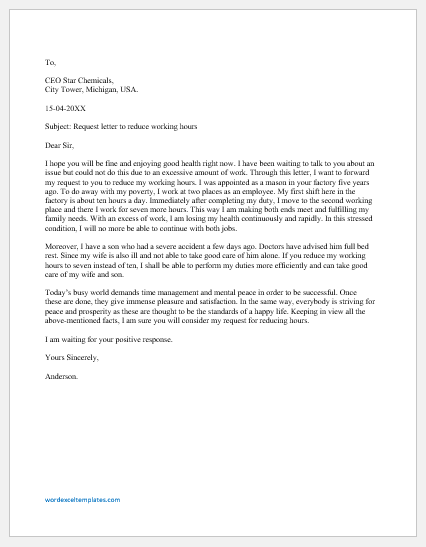 File: Word (.docx) 2007+ and iPad Size 22 Kb |
Download
---
Sample -2
To,
CEO Star Chemicals,
City Tower, Michigan, USA
15-04-20XX
Subject: Request letter to reduce working hours
Dear Sir,
I hope you will be doing well these days. I, through this latter, hereby request you to reduce my working hours. The reason behind this is the fact that my house is located about 70 kilometers away from the office. I have to change 3 buses to reach home and, in this way, I daily get late. I cannot be transferred to a nearby branch of the office because it requires a minimum service of 10 years in order to do so. I have 5 years of service in my account.
As per the policy of our company, it is right of an employee that if he/she has serious family issues, 2 hours of relaxation in working hours may be given to him keeping in view the seriousness of the matter. The matter I have discussed with you is of the same kind. Therefore, I request you please allow me to leave the office at 3:00 P.M. instead of 5:00 P.M.
I will highly appreciate your kindness. Thanking you in anticipation.
Yours truly,
Anderson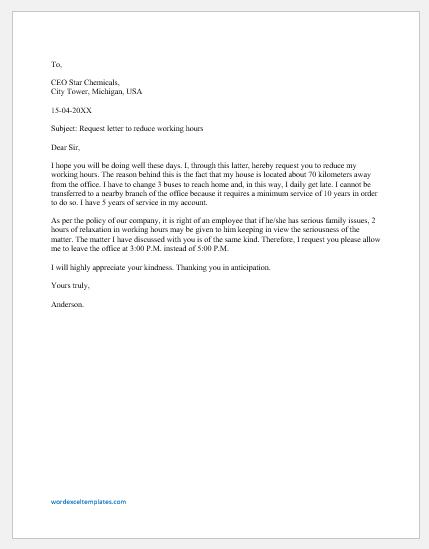 File: Word (.docx) 2007+ and iPad Size 21 Kb |
Download
---