Many companies provide hostel facilities to their workers so that they don't have to commute to the office daily from far-off areas. Some companies provide the hostel free of cost while some of them charge for them and deduct a specific amount from the salary of the workers every month.
Employees who are already staying in the accommodation from their office cannot shift to somewhere else without informing the company or without seeking permission. This is because they are using the asset of the firm and they must get permission from their boss before they leave. Whether an employee has to move out temporarily or permanently, he must write the request and seek permission.
What is a request letter for staying outside the company's hostel?
It is a letter that is written in the professional setting in which a request is made to the boss to allow the sender of the letter to stay outside the hostel the company has provided. This letter needs to be drafted very carefully because sometimes, there is a need to convince the employer for allowing you to have a separate place of residence.
Why it is important to request a different residence?
Sometimes, the employee cannot stay in the accommodation that the company has provided to him. When an employee is using the asset of the company and wants to move out of it, he must write a letter and make a formal appeal to be allowed to move out.
In certain circumstances, the employee also wants the boss to pay him for separate accommodation. This usually happens when the company is always committed to financing the accommodation of employees. However, employees cannot leave their hostel and shift to another one without the permission of their boss especially when they want the rent of the new accommodation to be paid by the company.
How to write?
Start with some elementary details:
Your boss should know who is writing and what the background of the sender is. So, provide your details and since you are appealing for staying outside the hostel, you must inform the employer about the duration of your stay.
Appeal:
Use a humble tone and request your boss to allow you to move out. This should be done in an efficacious way. If you think that providing a reason can, give strength to the appeal you are making, you must tell him the reason as to why you are in the need to write this request.
Add additional details:
If you have any other requests to make, do right here. For instance, if you have rented a separate accommodation and you want your boss to pay for it, you can write an appealing message here. This will save you from having to write another request letter later.
There is a sample letter given below in which, a worker is writing to his boss and trying to seek permission from him to allow him to move out. This sample letter can be used as a template to draft a letter of your own. However, you can use it as it is and send it away after a little modification.
Sample letter:
Subject: Request to stay outside the accommodation provided by the company
Respected sir,
I am Mr. ABC working as (mention your designation) in the sales department of the company. I have been living in the (mention the address of the company's accommodation) for last six months. I am writing this letter to make a formal request to you to allow me to stay outside the location of the residence that you have provided to me.
My mother is very ill and there is no one to take care of her. She lives in the same town, and it would not be difficult for me to commute to the office daily from there. I would also like to request to you kindly not deduct accommodation charges from my salary. I will be highly obliged. I am looking forward to your positive response.
Regards,
Name of the employee
Designation of the employee in the company
Name of the department
Signatures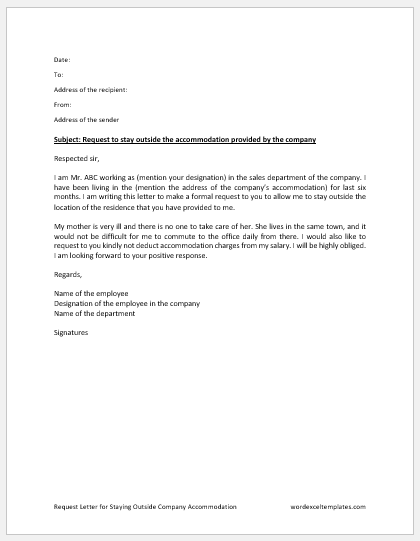 File: Word (.docx) 2007+ and iPad
Size 24 KB