What is a salary certificate?
This is a document that comprises all the details regarding the basic monthly salary of a person working in a company. This document is very important as it not only shows the pay of the person but also proves that the subject is employed.
Why is a paid certificate needed?
People who are not self-employed work for some other people in exchange for a monthly income. This income is generally documented at various places and in various databases. However, when a person has to show his income somewhere, he completely relies on the salary slip that the company where he works issues him. There are many situations in which, this document is generally needed. Some of them are:
When a person has to prove that he is employed and is capable of managing his finances. For instance, while applying for a loan, the salary certificate is generally needed.
When there are some discounts and benefits for the person salary of whom lies in the specific range and that person wants to avail that, he can submit his certificate of pay.
In some cases, the person can also use his payslip to prove that he is an experienced person since the job tenure is also mentioned in this document.
How to write a request for a payslip?
Some people generally feel so uncomfortable when they have to write a request letter to their boss. They feel they cannot pull it off because of their poor communication skills and lack of knowledge about writing a request. For such people, the guidelines are being given below:
Make a formal request:
As soon as you start the letter, ask your boss to issue you the monthly wages slip. While making a request, you can formally tell your boss what information you require to be shown in this document. such as basic salary, tenure of job, and much more.
Give reason for asking:
A worker in any company is not needed to give the reason for requesting the monthly payment proof since it is a basic right for him to ask for this document when he needs it. However, some companies have a policy that they don't issue this certificate unless the worker provides them with a genuine reason. So, know the policy of the company and if the reason is required, go for it.
Tell when you need:
Sometimes, this document is needed urgently. In that case, the worker cannot wait indefinitely for the company to issue him this document. So, to prompt the reader, he can make a request and then provide a date by which, he needs this document. Remember that you will use this document to prove your employment. So, never compromise on what details your boss writes in it.
Close positively:
Every part of this request letter requires you to show a positive attitude. However, the ending is the most important part where you are required to demonstrate professionalism. The ending should show your expectations that you are hopeful that your boss will never let your request go unanswered.
Below is a sample request letter was written by an employee to his boss to apply for a certificate of monthly income.
Sample request letter for salary certificate
Date:
Name of the recipient:
Address of the recipient
Subject: A request for pay certificate
Respected Sir,
I am Mr. ABC, working in the sales department since 2012. This letter is being written to formally ask you to issue me the salary certificate that states my basic salary along with the tenure of work in the company. I require this document because I need to apply for the discount on the medical expenses in ABC hospital based on my salary and this is a very important document for me at this point in time.
I would like to request you to issue me the payslip certificate by the 28th of this month. I will be highly obliged if you do me this favor. I am looking forward to your kind reply.
Regards,
Name of the employee,
Designation of the employee in the company
Name of department
Signatures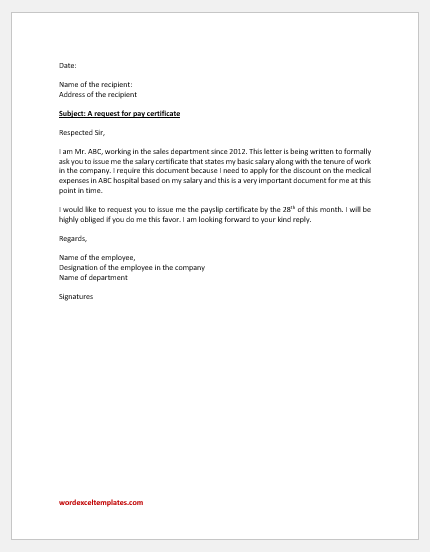 File: Word (.docx) 2007+ and iPad
Size 18 KB