Letter -1
With due respect, it is stated that I have not been able to wear my uniform since last week and will not be able to do so for the next two weeks either. The reason is that I become highly allergic to peanuts during winters causing my skin to swell and itch. My itching gets worse when I wear anything nylon and I cannot cover my hands and feet with gloves and socks respectively made up of any material at all, be it cotton or anything else. The worst part is that this allergic reaction does not subside for a whole month.
I ask for your sympathy over my problem and allow my entry into your organization's boundary hassle-free. I have to be stopped at the gate every morning and the inquiry takes about ten minutes of both of our valuable time. To rub salt on my wounds I have been fined about three times now in the past week as well even though my condition is totally out of my hand.
This time the way I contracted my allergy wasn't my fault either. I ordered food at your institute's cafeteria and just like always, gave them special instructions to not add any ingredient that is or has peanuts, but the cafeteria worker forgot and added peanuts to my food. It was 'Chow Mein' that I ordered last week. I had to be taken to the medical ward and given Diphenhydramine injection an hour after I ate from the cafeteria.
Again, I would like to request of you be considerate of my condition and give special instructions at the gate not to constrict my entry to your organization.
Regards,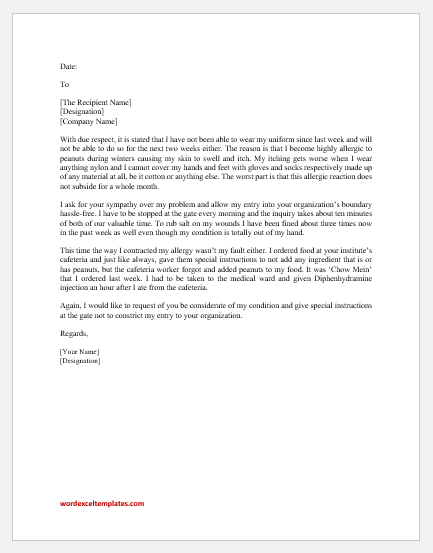 File: Word (.docx) 2007+ and iPad
Size 13 KB
2-
I am writing this letter to give an explanation as to why I am breaking the code of conduct of your institute and not wearing the standard uniform today. The reason is that while giving the chemistry practical, the flasks provided were not made up of standard glass and while demonstrating the silver mirror formation process at the sides of the flask, mine suddenly exploded.
You can ask my supervisor, ma'am [X], whether I was following the procedure right and she will tell you that I followed the procedure exactly as I was supposed to. She was observing me the whole time.
The hot liquid from the experiment ended up sticking to the hem of my lab coat and burning a big hole into it. Luckily, I received no serious injury other than some light scratches and a shock. However, appearance-wise I was not in a state where I could just walk around the whole institute without looking abnormal.
Since we do not get any lockers to keep any spare clothes, so I am not wearing a lab coat, wearing which is considered mandatory. Neither can I just leave the institute now because I have to give my mid-term exam in the next slot. Please do not fine me today. I will be sure to wear a new lab coat tomorrow.
P.S. Due to my incident today I have to make two requests. The first is to please have the lab in-charges check the quality of materials brought into your institute because this is not the first accident in my class. Second, there should be spare lab coats available in the laboratory that can be lent because this attire can save our bodies as mine did an hour ago.
Regards,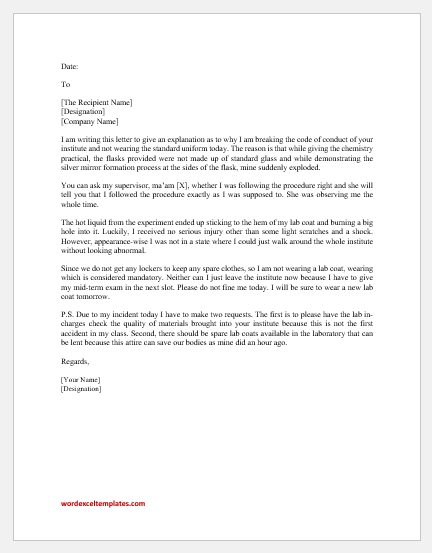 File: Word (.docx) 2007+ and iPad
Size 13 KB