Oftentimes we get into a situation in which we have to face a deduction in the salary. This happens when we are compelled to put our job on hold and focus on things that are seemingly more important to us. This act is not acceptable by any organization. Therefore, there are different policies devised by different organizations to correct the behavior of their employees.
Whenever an employee shows irresponsible behavior while he is employed by an organization, the organization will be compelled to deduct his salary. If the employee is not habitually irresponsible, he will request his employer to not minus some amount from his salary.
What is a request letter for not deducting salary?
This is a formal request letter that a person writes to his/her boss to request to reverse the subtraction of salary decision.
When to write this request letter?
There are many situations in which we choose to write the request letter to our employer. Let us see a few of them:
When an employee has been a very responsible person and the company has never seen any problem in his behavior, the employee can request to reverse the deduction based on his past behavior.
When the employee is going through a financial crisis and he needs his full salary to make ends meet, he can write to his boss telling his situation and making a request.
When the salary deduction policy is newly devised in the company and the employee was not aware of it or he wasn't asked to sign the agreement with the company, he can confidently write this letter.
How to write a request letter for pay subtraction?
Subtraction from the pay of an employee is usually a disciplinary action that most organizations take when they see that the employee is not showing responsibility for his job. Deduction from the salary is not always a sudden action. Several warning letters are written prior to taking this harsh decision. People don't like this decision and they decide to be careful in the future. However, they need to write a request letter to their boss asking him to reverse the decision this time at least.
below are some tips that can be followed to write an effective request letter:
Start the letter with the formal request to the employer so that he doesn't deduct salary from your account.
There might be a reason behind this disciplinary action. If you know your behavior that offended the company, provide the reason for that behavior. If you don't want to provide the reason, simply tell your employer that this is not going to happen again.
At the end of the letter, Express gratitude to show courtesy.
Sample letter
Date:
Name of the employer
Name of the company:
Subject: request for not deducting salary
Respected sir,
With due respect, it is stated that I have been working in your company for more than 3 years. I have always been so punctual and regular when it came to attendance. However, due to the illness of my mother, I remained absent for three consecutive days from my job from 3-5 March 20XX. Due to this, my salary has been deducted. My mother was taken to another city in an emergency and this is the reason; I could not send her a medical certificate. There's no one other than me to take care of her. I couldn't come to the job.
I am already going through a financial crisis since I have spent all my savings on her treatment. I would like to request you here to not deduct my salary this month. Please ask the accountant of the company to not deduct my salary.
You can check my previous record to see how regular I was. I assure you that this will never happen again. I am hopeful that you will consider my request and take some action on it. Thank you so much for your consideration. Looking forward to a response from your side.
Regards,
Name of the employee
Designation in the company.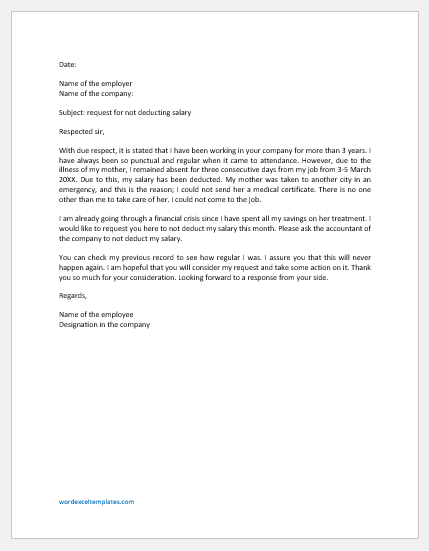 File: Word (.docx) 2007+ and iPad
Size 23 Kb
Download
---